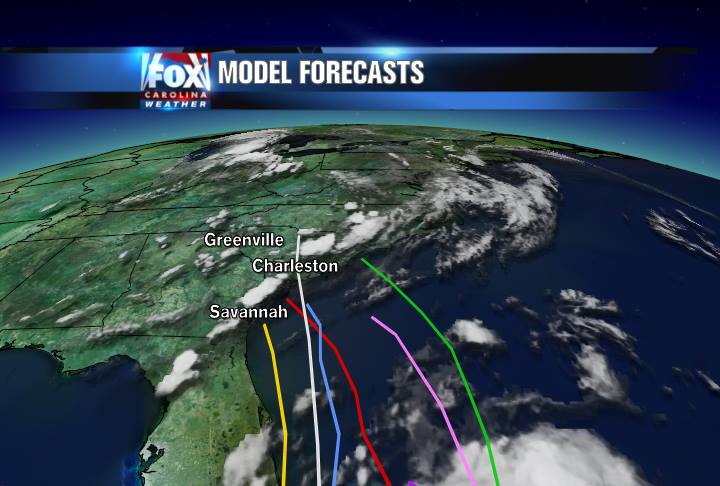 Model forecast tracks for Chantal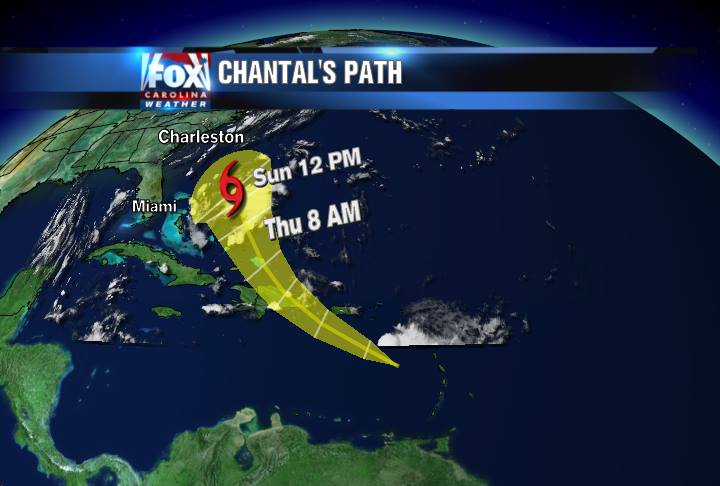 Forecast track/timing for Chantal
Tropical Storm Chantal is nearly a hurricane with 65 mph winds right now (4pm), but it's strength will be diminished as it nears and crossed over Haiti and the Dominican Republic. After that it's expected to remain at tropical storm strength and head into the Atlantic. It will come close to the Carolinas, and its speed will decrease significantly. So, it could churn off the Carolina coast for a few days, and bring plenty of moisture in for beach goers (along with some rip currents and high waves). This would happen late in the weekend and toward early next week.
Chantal doesn't look like it will have a big impact on us (as it looks now). A front will cross through the western Carolinas late week, then stall out to our south. That should act as a block between us and Chantal. However, if the boundary doesn't move as far south as forecast, things could change. It may help to keep things moist and ripe for t-storm development, but it will probably keep the torrential tropical rains toward the coast. Something to watch though!
Between now and the end of the week we'll be watching for pop-up storms that are slow movers and produce a lot of rain. Anywhere these storms develop, we'll have a threat for flash flooding. Chance is about 40% for today and tomorrow, then goes to 60-70% by late week.