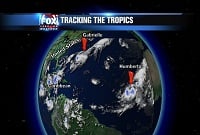 Let me start by saying... I'm not expecting our forecast to be impacted by the tropics anytime soon! In fact, we have some spectacular weather coming closer to the weekend! More on that in a sec, but first... Gabby and Bert!
Humberto, as of 4PM, is still a strong tropical storm but will likely become our first hurricane of the season. Amazingly, if it stays a tropical storm for another day or so it would make this the latest the first hurricane of the season has developed. But, I do expect it to be a hurricane in the next few hours. It doesn't pose a U.S. threat as it looks now.
Gabrielle has reformed near Bermuda, and will bring tropical storm force winds and heavy rain there. It should continue north and not impact the U.S. either!
There's an area in the western Caribbean that could become tropical, but for now the National Hurricane Center is only giving it a 20% chance of development over the next 48 hours.
As for our forecast, it's pretty simple... HOT Wednesday, storms & heat Thursday & Friday, then cooler, fall-like weekend! Highs will go from the low 90s in the Upstate to mid 70s! Nighttime temps will drop into the mid 50s Saturday night for the Upstate and upper 40s for parts of the mountains. Talk about some football kind of weather! I may have to put a pot of chili on!