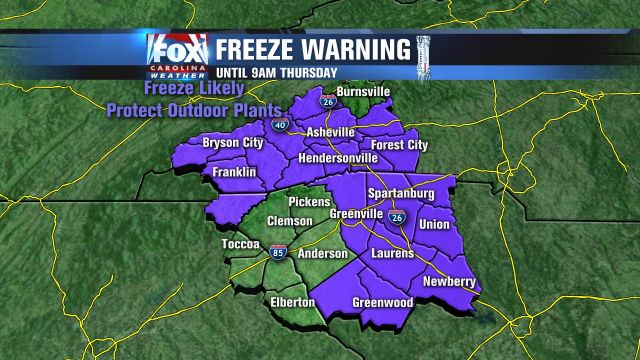 GREENVILLE, SC (FOX Carolina) -
Cool air is still settled over North and South Carolina this afternoon and with clear skies expected overnight, lows will likely drop into the mid to lower 30s across the region. This will pose a threat to outdoor potted plants as well as sensitive vegetation.
We will see a Freeze warning in effect for much of western North Carolina and the Upstate this evening until 9am Thursday morning. These locations will likely see temperatures in the lower 30s. These conditions will have the potential to kill crops and other vegetation.
In parts of the Upstate and northeast Georgia we will see a Frost Advisory until 9am Thursday morning. Once again, if at all possible, bring potted plants indoors and cover tender vegetation. Temperatures will likely fall to near freezing overnight.
The Sun will return for Thursday along with slightly warmer temperatures. We will continue a small warming trend into the weekend, leveling off to right around normal for this time of year by the end of the weekend. Expect to see highs in the lower 70s across the Upstate and upper 60s for western North Carolina by Sunday.