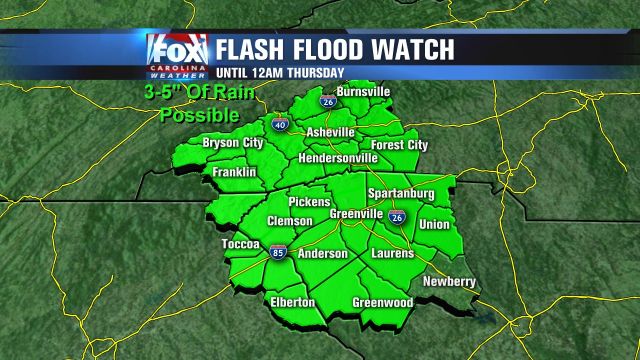 We are under the gun for flooding and severe weather through late Wednesday. You may be wondering why this system is SO bad, and why we are dealing with severe and flooding storms for so long. Well, it's all about the system's strength and speed...
There's a low way to our north in the Great Lakes region that is spinning and not really moving. It is a massive low with lots of dynamics to help fuel moisture transport into the southeast, strong upper level winds and a potent cold front. The front will take 48 hours to get from Arkansas to the central Carolinas. Because of the slow speed, we are looking at several round of soaking rain and damaging storms.
Because the system is taking FOREVER to move across the southeast, we are getting a strong and PROLONGED southerly flow. This is helping to destabilize the atmosphere and bring us lots of instability. CAPE values (used for storm energy) are above 1000 and that is not too common for the Upstate, mountains and northeast GA this time of year. Because of this prolonged instability increase, we will be primed for strong storms as the front gets closer. The wind fields with the system are unbelievable, making any storm capable of putting down damaging straight line winds or possibly a tornado.
Round 1 comes late tonight into the morning commute, then round 2 will arrive Tuesday evening and overnight. Round 3 gets here during the day on Wednesday as the front finally passes by.
I'll be posting hour by hour forecasts on our homepage at foxcarolina.com Stay safe and email us any severe weather reports to weather@foxcarolina.com