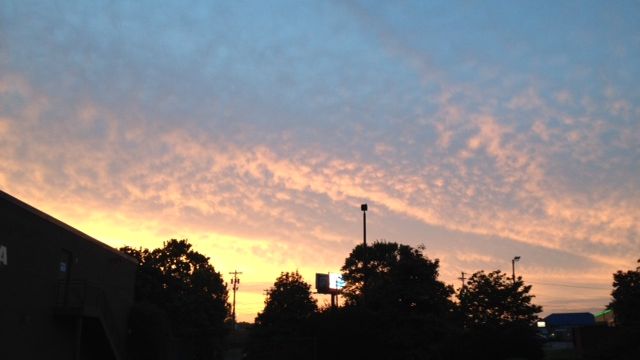 Sunset Tuesday night
If you got outside this evening you probably noticed the dramatic sunset with the clouds mixed in. Those high level altocumulus clouds are a classic beacon of a storm on the way. Right now it isn't looking as bad for flooding and tornadoes as once thought, but I still think that a few dangerous storms could develop late tonight into the morning. Then we'll have another quick shot at storms as the cold front approaches Wednesday afternoon.
There have been a lot of factors in play with this storm forecast. Last night we did see severe weather in the mountains, from storms that developed from the moist upglide over the mountains. Once those storms formed, they rotated FAST thanks to the strong shear (or turning of the winds) in the atmosphere. We haven't had a big trigger to start showers and storms in the Upstate, but if they did get going, they could get really fierce because of the atmospheric environment. The overnight complex of storms that some of our models were showing last night never could quite develop, so we only got the severe weather in the mountains.
Our short range models are showing a line of heavy showers and storms arriving after about 4am, but a few could pop up before that.

We still have a favorable environment for severe weather tonight, and we have a better chance of getting storm development. As the front approaches tomorrow we'll continue to get showers and storms, off and on.