Lawmakers, political parties push harder for new NC-9 election as evidence of fraud grows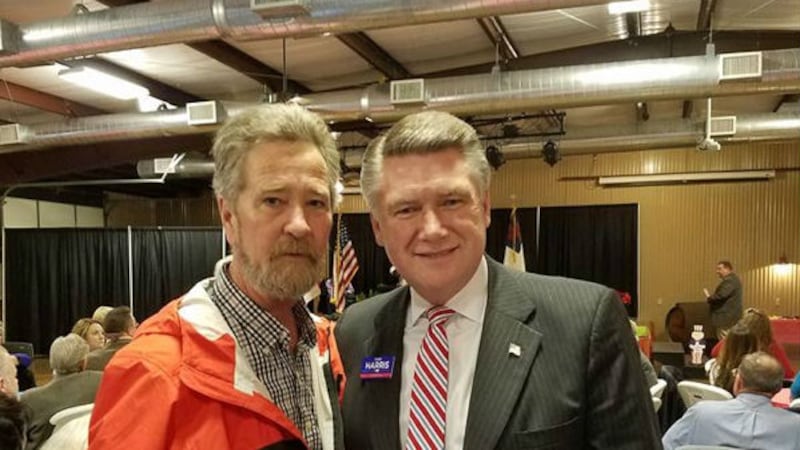 Updated: Dec. 12, 2018 at 6:19 AM EST
NORTH CAROLINA (WECT) - Tuesday, Dec. 11 proved to be another tumultuous day in the ongoing investigation into election fraud in parts of southeastern North Carolina as more evidence emerged and lawmakers and political party leaders again called for a new election.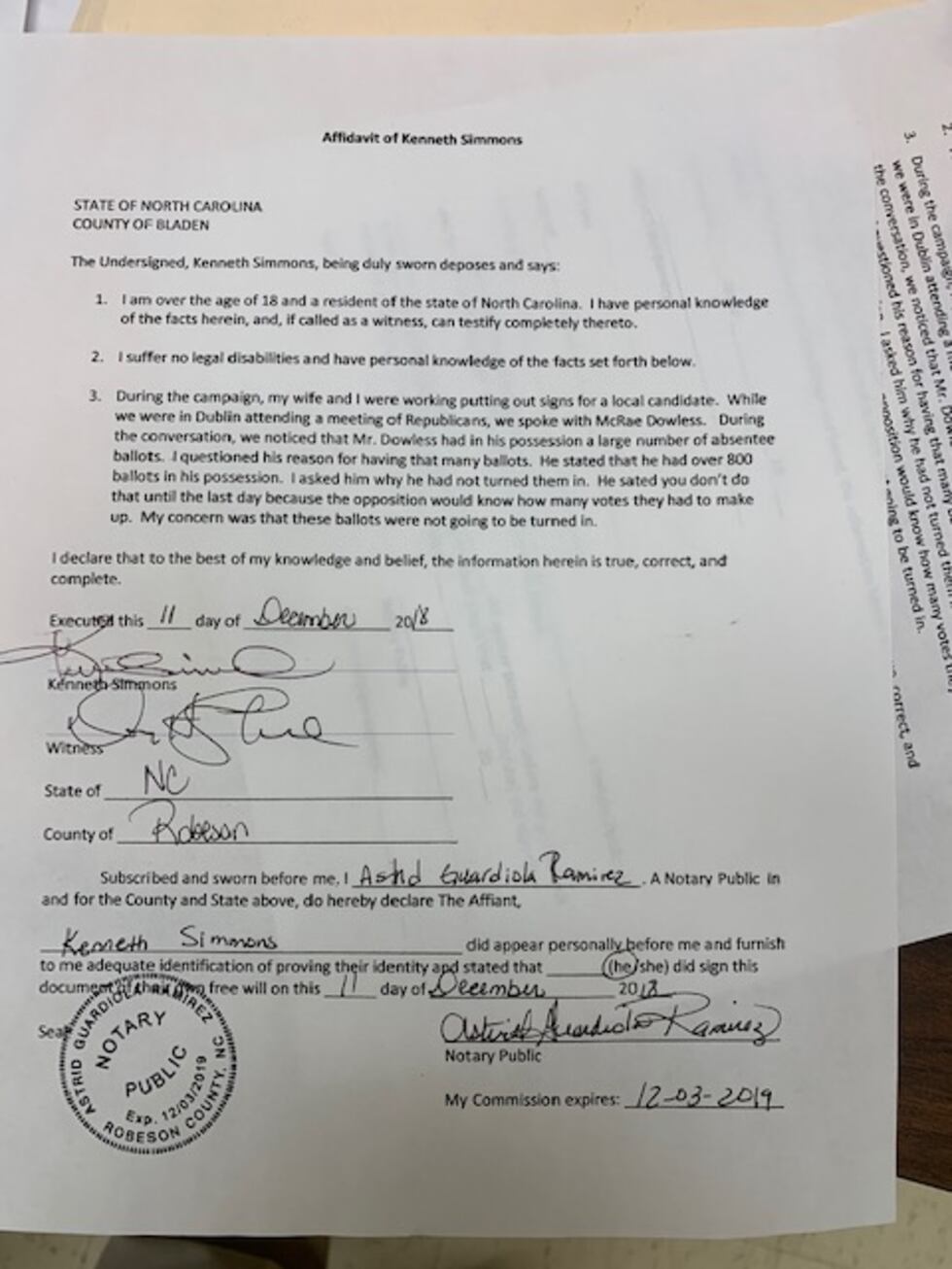 In an affidavit signed Tuesday in St. Pauls, two people say they saw McCrae Dowless, the central figure in the investigation, in possession of hundreds of absentee ballots. Kenneth Simmons and his wife spoke with Dowless outside of a campaign event in the fall, and say Dowless told them he had more than 800 absentee-by-mail ballots.
When the Simmons' asked him about why the ballots had not been turned in, Dowless allegedly said he was waiting to turn them in at the end.
On Tuesday night, a photo of Dowless and North Carolina 9th Congressional District candidate Mark Harris together at a dinner in Bladen County was sent to WECT.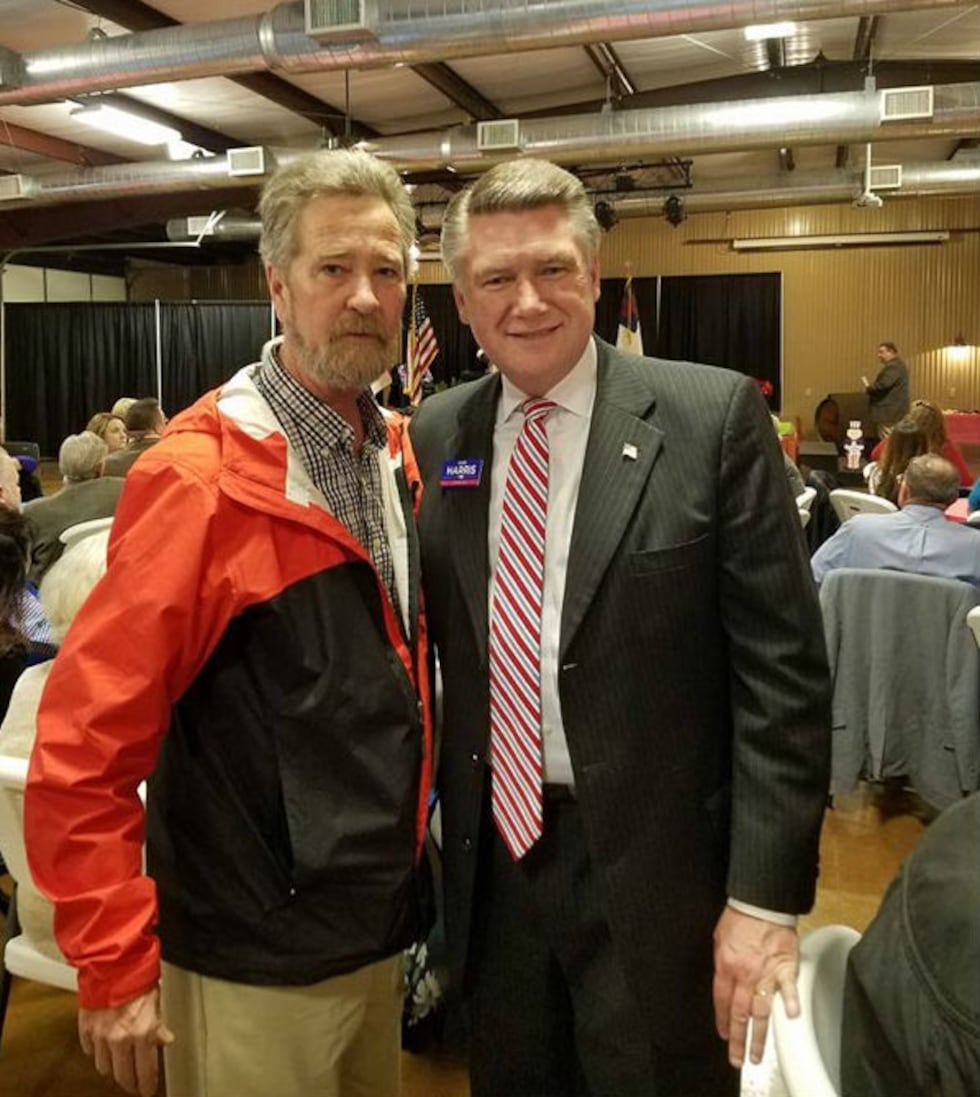 In North Carolina, it is illegal for anyone other than a direct family member to turn in an absentee ballot for someone else.
Court documents obtained by WECT show that Dowless's connection to candidates in southeastern North Carolina dates back long before the 2018 election cycle.
According to those records, Sheriff James McVicker, whose campaign records have been subpoenaed by the State Board of Elections and Ethics Enforcement, worked with Dowless during his 2014 campaign for Sheriff when he won by just over 300 votes.
During that cycle, at least one person paid Dowless $5,800 for McVicker's campaign.
When WECT reached Sheriff McVicker by phone Tuesday afternoon, he had no comment when asked about his campaign's ties to Dowless.
Additionally, WECT discovered a complaint had been filed on Election Day against McVicker, claiming he conducted electioneering activities near curbside voters while they had their ballots.
After arguing that there needed to be a new investigation in the claims of election fraud, the North Carolina state Republican party announced Tuesday that it now is advocating for an entirely new election for the 9th congressional district — just as Democrats have for the last two weeks.
The race between Republican Mark Harris and Democrat Dan McCready has still not been certified, and both the state board of elections and the U.S. House of Representatives could call for a new election. McCready has withdrawn his concession in the race.
In a release and press conference, the GOP referenced claims from affidavits filed by the Democrats that early voting data in Bladen County was leaked, giving candidates who accessed that information an unfair advantage.
For that reason, the GOP legislators said, there needs to be a wholly new election.
Additionally, Republican lawmakers filed a bill Tuesday that would not only call for a new general election if the state board finds evidence of fraud, but would require a new primary election. Some have claimed Dowless and his associates were active in the 2018 primary contests as well.
Tuesday afternoon, a federal judge gave the state board an additional seven days to conduct its investigation. Before the order, the state board had until Dec. 21 — a self imposed deadline that became hard and fast when the board nearly dissolved on Dec. 3 due to a lingering legal fight.
Over the last two years, the state board of elections has been a polarizing issue for state elected officials.
In November, a constitutional amendment that would have created a new State Board of Elections and Ethics Enforcement, and limited the individuals the governor could appoint to serve, failed to pass.
The amendment referendum came after two years and court battles between Governor Roy Cooper and Republican lawmakers over the size and makeup of the board.
Currently nine board members oversee elections administration in the state — and voted 7 to 2 to refuse to certify the 9th congressional district and launch the investigation into election fraud in Bladen County and Robeson County.
In a bill re-filed Tuesday, the board would revert back to the makeup that existed before the 2016 election, and would be comprised of five registered voters appointed by the governor. Those members would serve four year terms beginning May 1, 2019, and would be replaced by governor-appointed successors at the end of that term.
Copyright 2018 WECT. All rights reserved.