Antisemitic flyers found outside Boca Raton homes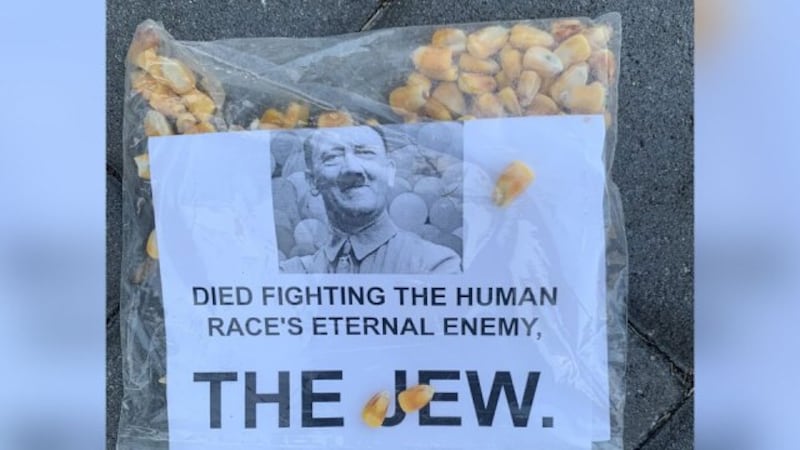 Published: Apr. 20, 2022 at 11:31 AM EDT
Some residents in Boca Raton woke up Wednesday morning to find hateful messages outside of their homes.
U.S. Rep. Ted Deutch tweeted a photo of one of the antisemitic flyers, which contained the face of Nazi leader Adolf Hitler with the words, "Died fighting the human race's eternal enemy, The Jew."
Deutch said in the tweet that "this vile antisemitism must be universally condemned. And the cowards spreading this hate must be held accountable."
The flyer that Deutch showed was inside a plastic bag and weighed down by corn.
Boca Raton police spokesman Mark Economou said they received "multiple reports" of the flyers Wednesday morning including in the Lake Wyman area of the city.
Economou said police are currently investigating the cases.
Boca Raton Mayor Scott Singer said the flyers were left in driveways at homes on four streets.
"We fully condemn this vile hate. ... We stand strong & united against all bigotry & antisemitism," Singer said in a tweet.
David Harvey of Boca Raton said he woke up and found a Ziploc bag of corn kernels at the bottom of his driveway. Inside was a piece of paper with the face of Hitler and his April 20, 1889 birth date.
"And on the reverse side, it said, 'Died fighting the human race's eternal enemy,'" Harvey said.
Boca Raton police were patrolling Silver Lane and Phillips Drive Wednesday afternoon after receiving multiple complaints of the pro-Hitler flyers near the Lake Wyman area of the city.
"To see it in my neighborhood, even though I've seen it online, and on TV over the years, it hit home," resident Paul Castronovo said. "It was brutal and heartbreaking."
Surveillance video obtained by WPTV appears to show a driver throwing the plastic bags out of the window of a car late Tuesday night.
"We have seen white supremacists and extremists make use of the anniversary of Hitler's birthday to promote antisemitism," said Lonny Wilk with the Anti-Defamation League.
This isn't the first instance of hateful flyers showing up in South Florida neighborhoods this year.
Hundreds of antisemitic flyers were delivered in the middle of the night in January to more than 200 homes in Miami Beach and Surfside targeting the Jewish community.
The Anti-Defamation League said antisemitic incidents in Florida were up 40% in 2020 over the year before. Also, in the past six months, the ADL said they have seen an uptick in cases.
"Antisemitic propaganda targeting individuals, not just Jewish institutions, has become widespread across the country and here in the state of Florida," Wilk said.
A report released late last year by the American Jewish Committee said that one in four American Jews have been subject to antisemitism over the last year.
That same report also found that 39% of American Jews changed their behavior in the last 12 months out of fear of antisemitism.
Scripps Only Content 2022