Margaritaville cruise ship 'cleared' to sail, Coast Guard says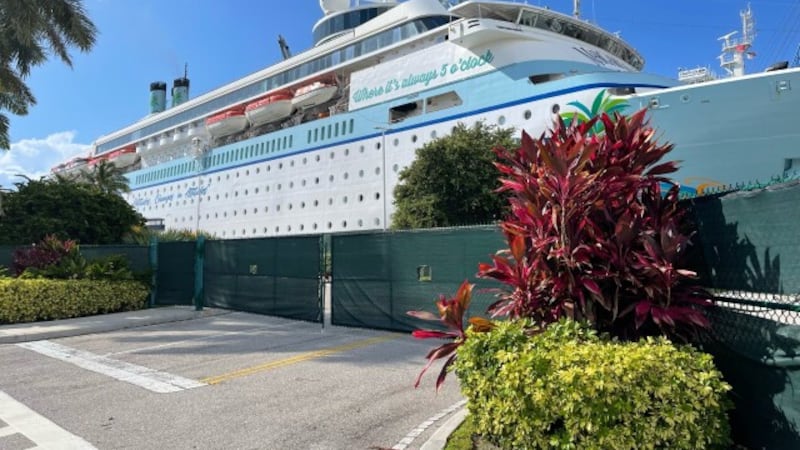 Published: Jul. 15, 2022 at 11:41 AM EDT
The U.S. Coast Guard has lifted the "No Sail Order" for the Margaritaville at Sea Paradise cruise ship.
According to Margaritaville at Sea, the cruise ship returned to its regular sailing schedule on Friday, departing from the Port of Palm Beach at 5 p.m. However, there are passengers still in the Bahamas.
The cruise ship was cleared for sailing Friday morning after not being able to leave the Port of Palm Beach on Wednesday.
WATCH BELOW:
'No Sail Order' issued for Margaritaville cruise ship docked at Port of Palm Beach
"Margaritaville fixed their discrepancies and are cleared to go," U.S. Coast Guard Public Affairs Officer Nicole Groll told WPTV.
With regard to why the "No Sail Order" was initially issued, Margaritaville at Sea CEO Oneil Khosa told WPTV the following:
Tom Hrica, who is from South Carolina, left the Port of Palm Beach on Monday. He was supposed to leave Thursday night but got notice that his return trip was canceled.
"The ship would have left here at 5 o'clock, so we would have had to be on the ship by 4:30," he said. "So, when we found out the boat wasn't here, everyone started making accommodations for us. I would say there's a couple of hundred guests that have done the same thing as me."
The delay was due to issues with doors on the ship. The Coast Guard caught the safety hazard during the ship's annual inspection.
Operations are now back in order with passengers on board ready to sail but Hrica and many others left in the Bahamas are waiting another night before returning to the United States.
"Tomorrow, we'll get on the ship," he said.
Scripps Only Content 2022