Delray Beach man volunteers teaching young kids how to play chess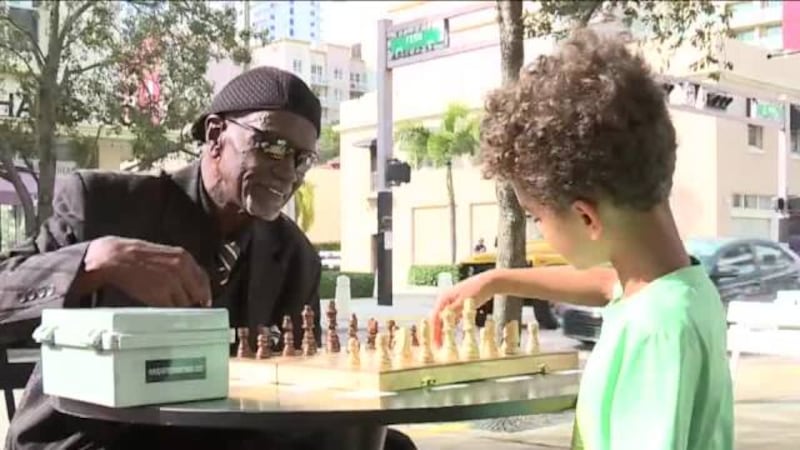 Published: Feb. 22, 2023 at 5:25 PM EST
James McCray loves teaching young kids how to play chess.
Elijah is only 6 years old, but he's learned a lot about the game. Elijah read to WPTV the thank you note he wrote to McCray.
"I like to play chess, because it is fun," Elijah said. "Chess makes me think."
McCray, known as "James Chess" said years ago he hit hard times. He was homeless and spent time in prison.
"It all started when I was homeless, and I went to the streets and being an ex-convict and other things," McCray said.
He wanted to turn his life around and give back to the Delray Beach community.
"So, we started right there in Delray Beach on Southwest Fifth Avenue on Atlantic and that's how I started," McCray said.
Now he volunteers twice a week teaching young kids how to play chess.
"Chess is what you call a life skill, communication in life period," McCray said. "The choices that you learn and the patience that you learn to play the game. It's not a violent game."
He believes teaching kids how to play gives them a different perspective on life.
"Chess gives you in, a different way, patience, and if you can learn how to be patient, then you really won't get into a lot of trouble," he said.
The chess group has grown over the years.
"Within the last year, totally, we had something like about 500 for the whole year," McCray said.
He also hosts chess events for Mother's and Father's Day.
"Everybody is somebody," McCray said.
The next Black History Month chess event is Feb 25 at Veterans Park in Delray Beach from noon to 2 p.m.
Scripps Only Content 2023