Cardinals pitcher surprises couple by autographing golf cart
Juno Beach couple gets to meet Adam Wainwright during spring training game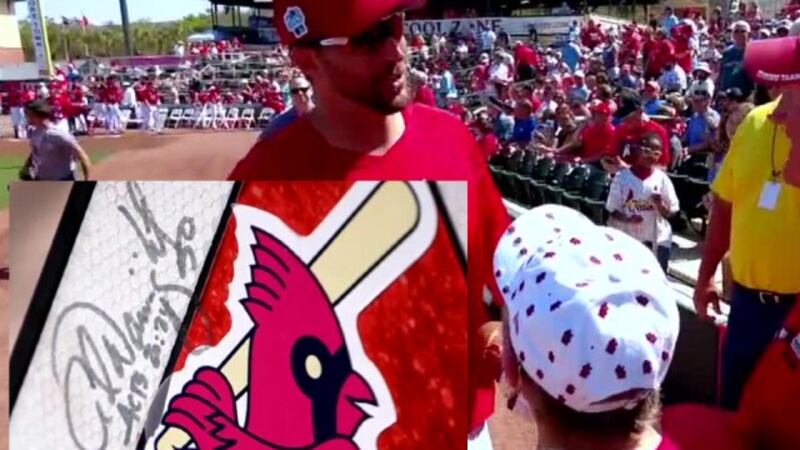 Published: Feb. 28, 2023 at 12:35 PM EST
A surprise autograph on a golf cart in Juno Beach led to a couple of longtime St. Louis Cardinals fans meeting one of their favorite players — star pitcher Adam Wainwright.
On Feb. 23, Wainwright tweeted a picture of his signature on a golf cart.
"Hopefully this really is a Cardinals fan! Was parked next to this golf cart today and my little girl wanted me to go look for him. This seemed like a better option!" Wainwright's caption said.
The cart belongs to Chris and Kathleen Kinman. The couple lives in the Juno Ocean Walk RV park during the winter and early spring months.
"This is our happy place in the winter," Chris Kinman said.
The Kinmans said they've been Cardinals spring training season ticket holders for 21 years.
On the day of the autograph, they were eating at Café Sole, their favorite restaurant right around the corner from the RV park. Once the realized who the autograph was from, the Kinmans were blown away.
"To do an act of kindness like that for someone he doesn't even know is truly amazing," Chris Kinman said. "We're blessed."
The couple didn't know their cart was signed until later that night. Neighbor Kevin Juergens noticed Wainwright's tweet and told his wife Becky.
"I think this is our neighbor Chris' golf cart," Becky Juergens said of the conversation. "I looked at it and was like, 'So.' And he said, 'Look at Adam's tweet.'"
Once the Juergens and Kinmans took a closer look, they knew.
"We just got really excited," Chris Kinman said.
"Couldn't sleep all night," Kathleen Kinman said.
WFLX anchor and reporter Mike Trim asked the St. Louis Cardinals marketing management team if the Kinmans could meet Wainwright before the spring training game against the New York Mets on Monday.
The Cardinals said yes and the Kinmans met and talked with Wainwright before he entered the dugout prior to the game.
"I'm glad you really are Cardinals fans," Wainwright said. "I saw it and my daughter wanted me to go find you. I said, 'I don't know if that's appropriate, but maybe I could sign it for them, and she says, 'Oh, we got to sign it.' So we get out and sign it, and it's not really something I've ever done. I hope they like it.
"I can't tell you what a special moment this is," Chris Kinman said to Wainwright.
"I can't believe you did that," Kathleen Kinman told Wainwright. "That's wonderful."
"OK, good, perfect," Wainwright said. "Well, it's nice to meet you all. Hope it was a blessing. Have a great time today. If I see your cart around, I'll sign it somewhere else."
Now, the Kinmans are neighborhood-famous. Many in their RV park are fellow Cardinals fans.
"I'd say that they're family," Kathleen Kinman said of the bond they share with fellow Cardinals fans. "Cardinals fans are special people."
Scripps Only Content 2023