Franklin makes go-ahead free throw, Ga. Tech beats FSU
Seminoles lose 61-60 in opening game of ACC Tournament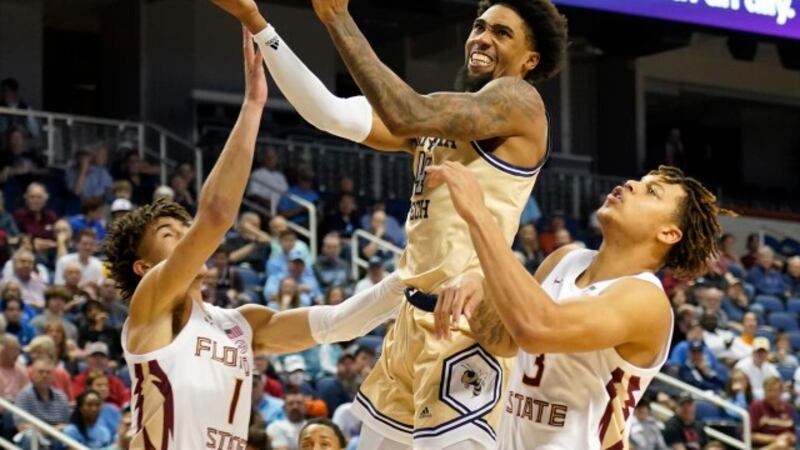 Published: Mar. 7, 2023 at 9:50 PM EST
Miles Kelly scored 21 points, Javon Franklin made a go-ahead free throw with 0.3 seconds left and 13th-seeded Georgia Tech rallied to beat No. 12 seed Florida State 61-60 on Tuesday in the opening game of the ACC Tournament.
Georgia Tech (15-17) looks to extend a four-game winning streak on Wednesday against No. 5 seed Pittsburgh.
Georgia Tech trailed by as many as 11 points early in the second half. Kelly sank a 3-pointer with 5:08 remaining to pull within 51-48 and Dallan Coleman tied it at 53-all on a jumper from the free-throw line. But Florida State made a field goal on its next three possessions, capped by a 3-pointer by Caleb Mills for a 60-55 lead.
Kelly added another 3-pointer at 1:46 to get within two points and Kyle Sturdivant got a friendly bounce on a jumper to tie it at 60-all with 55.9 seconds left. Florida State had a 3-pointer rattle out and Georgia Tech dribbled down the clock.
Lance Terry drove the baseline and had a dunk bounce off the rim but Franklin grabbed the rebound and was fouled on a putback. Franklin made the first free throw before intentionally missing the second.
Franklin finished with 19 of Georgia Tech's 29 rebounds, to go with 10 points. Coleman also scored 10 points for the Yellow Jackets, who snapped a four-game losing streak in opening-round games at the ACC Tournament.
Cam Corhen and Darin Green Jr. each scored 12 points for Florida State (9-23). Corhen also grabbed 11 rebounds. Matthew Cleveland, averaging a team-high 14 points per game, was helped off the court with 9:56 remaining in the first half due to an ankle injury and he started the second half before finishing with eight points in 21 minutes.
Cleveland and Green each made a 3-pointer on back-to-back possessions early in the second half for a 40-29 lead.
Florida State won the only regular-season matchup 75-64 on Jan. 7 behind 21 points from Cleveland.
Associated Press 2023