Owls dominate UAB to win C-USA championship
FAU earns NCAA tournament berth for first time since 2002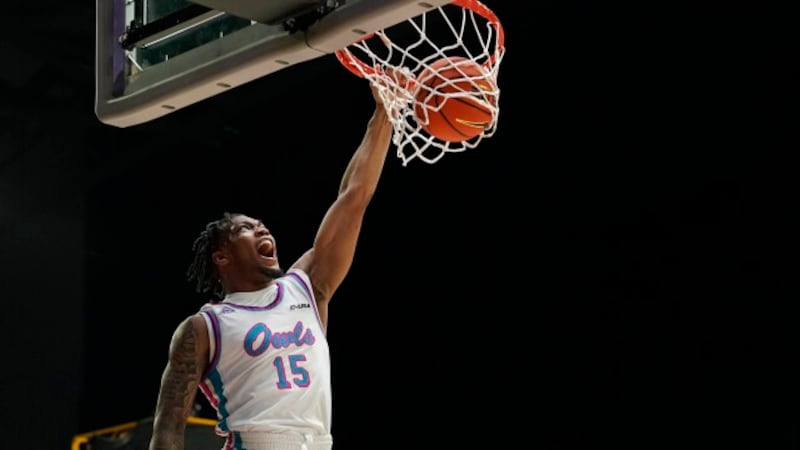 Updated: Mar. 11, 2023 at 9:00 PM EST
Alijah Martin scored 30 points and grabbed 11 rebounds and Florida Atlantic took control early and beat UAB 78-56 in the Conference USA Tournament championship game on Saturday to clinch an automatic bid to the NCAA tournament.
Florida Atlantic is making its first NCAA tournament appearance since 2002 when they finished as the Sun Belt Conference champions and earned a 15 seed and lost to a second-seeded Alabama in the first round.
Martin shot 12 of 19 including 5 of 10 from 3-point range. UAB shot 5 of 25 from distance. Johnell Davis added 18 points on 6-for-9 shooting and made all six of his foul shots.
Jordan Walker scored 18 points for UAB, reserve Eric Gaines scored 13 and Ty Brewer 10.
Nicholas Boyd made a layup for the Owls (31-3) to give them a 13-12 lead with 12:45 before halftime and they led the rest of the way. The play sparked a 9-0 run resulting in a 20-12 lead.
After Jordan Walker's 3-pointer brought UAB (25-9) within 25-17 with 8:57 before the break, Florida Atlantic went to the half with an offensive flurry and outscored UAB 21-10 and led 46-27 at halftime. The Owls stayed up by double figures the rest of the way.
The two teams split their regular contests with each winning on their own home floor. The largest margin occurred when UAB won 86-77.
Associated Press 2023