Pastor of Fort Pierce church thankful no one injured after shots fired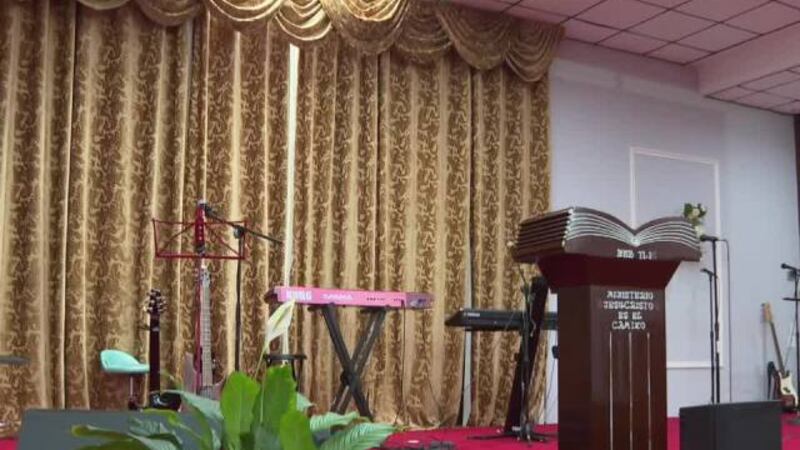 Published: Mar. 13, 2023 at 6:25 PM EDT
A mass shooting narrowly averted in a local house of worship.
The pastor of Iglesia Ministerio Jesucristo es el Camino church told WFLX that God was looking out for his congregation.
Pastor Jose Ruiz looked up, not for inspiration, but to see the damage done to his church along Oleander Avenue.
"Never seen anything like this, only see in the movies," Ruiz said Monday.
His early morning prayer service Sunday was disrupted by a gunman. Around 4:45 a.m., a man came into the church looking for his wife.
"He had a weapon, so when nobody responded, he got mad," Ruiz said.
Shots were fired into the ceiling, and as about 40 congregants ducked for cover, the armed man asked for the leader of the congregation.
"[He said] I want to kill everybody he said, everybody is scared you know," Ruiz said.
Again, when there was no response, the man fired more shots into the air before heading out into the entryway.
About 18 shells were found in the church.
The attack came just a week before the church planned to install new security cameras.
Daniel Natal said he didn't remember the time change, so he would have been inside at the pre-dawn service. But his late arrival allowed him to see the gunman leave the building.
"He was walking towards his vehicle, we saw on his left side he was holding a long rifle or a gun," Natal said.
The pastor said the gunman eventually turned himself into police.
Fort Pierce police, citing Marsy's Law, would not identify the suspected shooter.
Even after that traumatic incident, services went on as planned later in the day.
Ruiz said it is a miracle no one was hurt.
"God did the miracle. God does good work. I praise the Lord, that's why I tell all my people, don't give up," Ruiz said.
Fort Pierce Police said this is still an active investigation and are looking for more information.
Scripps Only Content 2023