No. 25 Owls take flight, head north in advance of NCAA tournament appearance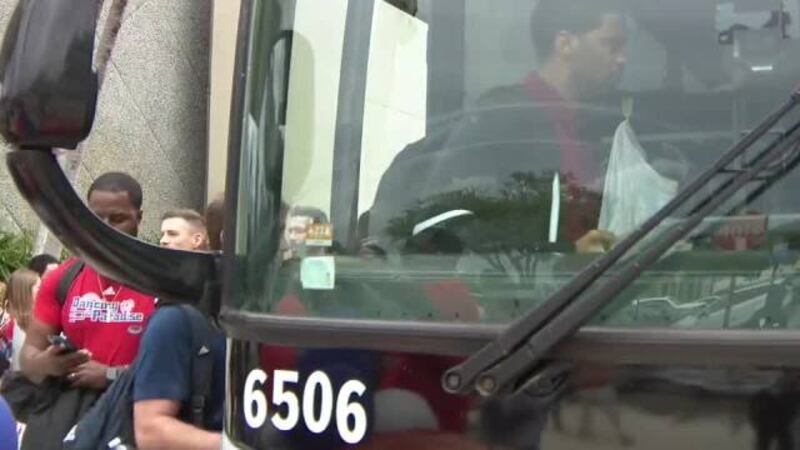 Published: Mar. 15, 2023 at 9:10 PM EDT
The Owls have left their nest and are flying north.
No. 25 Florida Atlantic (31-3), the No. 9 seed in the East Region of the NCAA tournament, were traveling to Columbus, Ohio, on Wednesday for their first-round game against No. 24 Memphis (26-8).
The Tigers, coached by former NBA star Penny Hardaway, are the No. 8 seed in Friday night's game against the Owls, whose 31 wins are tied with Houston for the most in the nation.
It's a meeting of future American Athletic Conference foes, as the Owls are leaving Conference USA at the end of the season.
Although FAU is 0-1 in its only other NCAA tournament appearance in 2002, fans told WFLX they're keeping the faith.
"There's never been a better time to be at FAU, and these guys, we've built something special this year with this team and this fan base," FAU staff member Ryan Moran said.
Many FAU students weren't even born the last time the Owls punched their ticket to the big dance.
That's true for Chelsea Ishmael.
"Where were you in 2002?" WPTV's Chris Gilmore asked Ishmael.
"Not born," she said.
For Moran, the wait has been a long time coming.
"I've been at just about every FAU basketball game for the past 13 years," he said. "We've been waiting, literally, decades for this."
As players boarded a bus to take them to the airport, they were cheered on by fans and fellow students.
"I feel like we're the hype men, so if we get the team hype, then they just get locked in and they can, like, push themselves to do better," FAU freshman Emily McCoy said.
Students said they're already proud of a team that's already made history, win or lose.
"When I see them here or I'll see them, like, walking to class or something, it's like, wow, they're real students [who] go here and also, like, great basketball players," Ishmael said.
The winner of Friday night's game will likely face No. 3 Purdue – the top seed in the region.
Scripps Only Content 2023