Gwyneth Paltrow's ski trial defense leans heavily on experts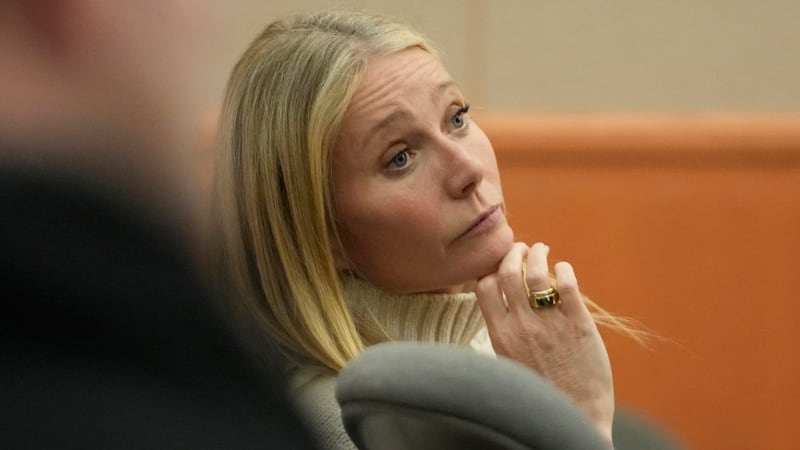 Published: Mar. 29, 2023 at 6:46 AM EDT
|
Updated: Mar. 29, 2023 at 10:37 PM EDT
PARK CITY, Utah (AP) — Gwyneth Paltrow's attorneys continued to rely mostly on experts to mount their defense on Wednesday, the seventh day of the trial over her 2016 ski collision with a 76-year-old retired optometrist.
The judge presiding over the trial in Park City has made it clear that he wants Paltrow's defense team to rest their case by Thursday afternoon — in order to give the jury enough time to deliberate and come to a consensus.
Terry Sanderson, the Utah man suing Paltrow, is asking for more than $300,000, saying that Paltrow's recklessness on the slope caused the crash, leaving him with four broken ribs and years of post-concussion symptoms including confusion, memory loss and irritability. Paltrow has countersued for a symbolic $1 and attorney fees, alleging that Sanderson veered into her from behind.
In the second week of trial, it's clear that both sides have spared little expense to ensure they have a roster of expert witnesses on call in case needed. Amid intense time constraints, multiple witnesses testified for longer than anticipated.
Paltrow's attorneys have asked Judge Kent Holmberg repeatedly to clarify the timeline for the eight-day trial. They reversed plans to cross-examine Sanderson in order to keep time on the clock for the four expert witnesses they said they had put up in a nearby hotel on Tuesday.
Much like Sanderson's attorneys, Paltrow's legal team is attempting to cram into four days all testimony from family members, doctors and an accident reconstruction expert. They said on Tuesday that they planned to call four additional experts to testify, but left the door open to call to the stand Paltrow or Brad Falchuk, her television producer husband.
Holmberg gave Sanderson's side the same amount of time to make its case.
Last week, Paltrow took the stand and insisted the ski collision wasn't her fault. Her lead counsel Steve Owens said earlier in the week that he planned to call Paltrow's teenage children — 16-year-old Moses and 18-year-old Apple — to the witness stand. But since Sanderson's testimony extended into Monday, Paltrow's legal team read depositions from her two teenage children for the record, instead of calling them to the stand to testify.
Over the last two days, Paltrow's defense team has relied mainly on expert witnesses, yet read depositions from Paltrow's children into the record on Tuesday. They've attempted to hold the jury's attention by playing multiple high-resolution animations while their witnesses — including a collision expert, biomedical engineer, physician and ski instructor — have all testified.
The animations have not been included as trial evidence. Still, Sanderson's attorneys have objected to their inclusion, arguing that Paltrow's team is using the animations to mislead the jury.
Though the trial has titillated spectators worldwide who've consumed video clips circulated as memes on social media, it has tested the jury, whose eight members have gradually sunk deeper into their chairs through hours of expert-witness testimony.
After both sides give closing arguments on Thursday, the jury will likely make their decision later that day or on Friday.
Copyright 2023 The Associated Press. All rights reserved.