Boynton Beach man rescues woman from burning car after crash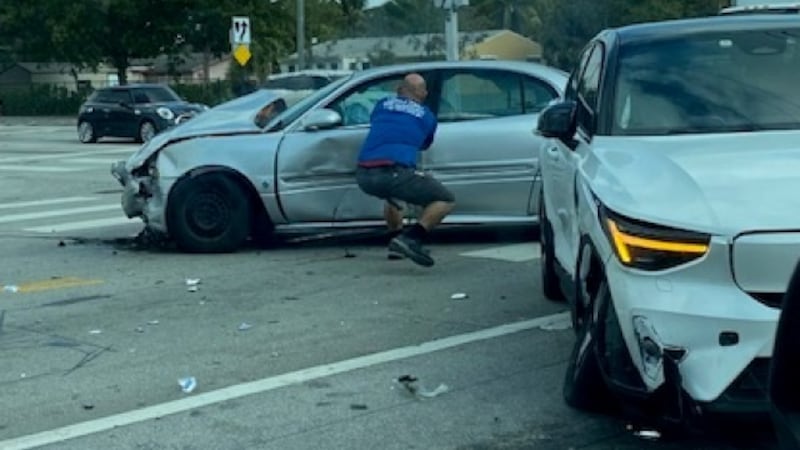 Published: Apr. 4, 2023 at 12:01 AM EDT
He doesn't want to be called a hero, but his actions were nothing short of heroic.
When Leo Zupo drove up to a crash Saturday morning, he did what first responders are trained to do without thinking twice.
The Boynton Beach resident was on his way home and saw the crash at the intersection of Boynton Beach Boulevard and Lawrence Road.
"As the fire starts to get bigger, I just noticed nobody was going out to help her," he said.
Zupo said a woman in her late 60s appeared trapped inside her car.
"I threw my truck in park," he said. "I ran over there."
But when he got to her, Zupo said, the door on the driver's side was jammed.
"I had enough room to get my fingers between the door jam and the door there," he said. "So I just pulled it with all my might, and I separated the door where the window is and I got the door open." Relieved, he rushed to get her out of the burning car.
"She's like, 'I can't move my leg,'" Zupo recalled. "She's gushing blood out of her right arm."
Zupo was able to get the injured woman to the curb, where firefighters would help her just a few minutes later.
"I've seen a lot of crazy stuff, but nothing to where it was like this," he said.
The woman was recovering in a hospital. The driver of the other car was able to walk away.
Zupo called his brother, a Boynton Beach firefighter, after the incident.
"I'm very proud of my brother, and I let him know our department personnel that responded are thankful for his heroic actions and will to act that saved this woman's life and from a worse outcome," Hector Zapos said.
Leo Zupo's business name is Super Zupo Home Improvement, an apropos Superman hero-type name.
Scripps Only Content 2023