Former teacher raises money for Project Zawadi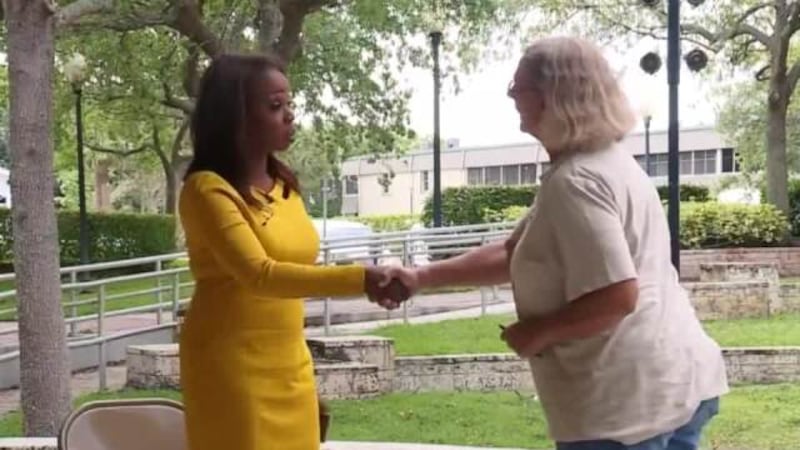 Published: Apr. 18, 2023 at 9:20 AM EDT
Inside a garage in Royal Palm Beach is a project that's turned into a full-time passion for Rhonda Barona.
"If you know anything about collecting aluminum cans, it takes thousands to make anything," Barona said.
We met Barona last week at one of our "Let's Hear It" meet and greets. Each Tuesday, the WFLX Morning Team is visiting a park to speak with viewers and hear their stories.
Barona, a former schoolteacher, didn't waste time telling WFLX Morning Anchor Hollani Davis about her trip to Tanzania 10 years ago. It was a trip that changed her life.
"I traveled there in 2013 and visited a school and it was pretty low level to say the least," Barona said.
She told her daughter, who was traveling with her, they had to do something, and they did. Rhonda started making crafts to sell, but her claim to fame became collecting and recycling cans. It wasn't long before the word got out. Even today, people leave them at her doorstep, and she knows where to look.
The money she collects goes to "Project Zawadi" which means gift. The founder, Brian Singer, said Barona's passion is unmatched. The money she raises has helped provide clean water systems and classrooms for kids, many of which walk up to five miles a day to attend school.
"She is like a one person Army, doing whatever it takes. She'll call and say what do we need now," Singer said.
Barona hopes to return and see the fruits of her labor soon. Until then, he'll keep collecting cans.
To learn more about Project Zawadi, click here.
Scripps Only Content 2023