FAU guard Michael Forrest dishes on life on, off basketball court
'He has a big heart,' FAU player says of coach Dusty May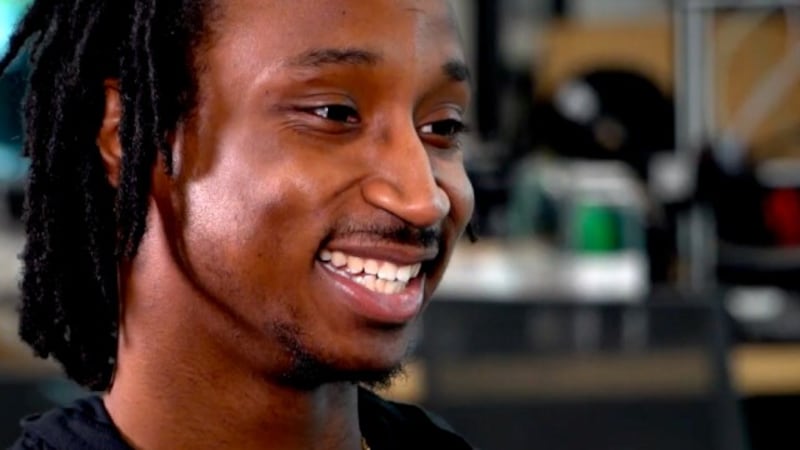 Published: Apr. 19, 2023 at 7:35 PM EDT
Florida Atlantic University guard Michael Forrest was a key member of the basketball team's historic run to the Final Four this season.
He spoke with WPTV and reflected on the team's success.
"Feels like a dream come true, how the whole year went on like this," Forrest said. "As a little kid, everyone dreams about playing on a stage like that. So, for us to be able to do that, it was amazing."
Forrest thanked coach Dusty May for keeping the team focused on the game.
"He has a big heart," Forrest said. "He loves everybody the same, no kind of favoritism with anybody. That's what sticks out to me."
Off the court, he's a senior majoring in mechanical engineering.
His father works in information technology while his mother is an elementary school principal.
"How good is it to be able to have your parents support you every step of the way?" asked WPTV anchor Tania Rogers.
RELATED: Boca Raton celebrates FAU men's basketball team
"It's amazing just because I know a lot of people don't really have like a support system behind them," Forrest said. "So, seeing them just makes me want to do everything just to work that much harder."
He said he was 6 years old when he first picked up a basketball.
"I could never put it down," Forrest said. "My dad got me like a little basketball goal and all hours of the night I am up trying to wake him up so that he can throw me the ball, so I could shoot it."
At the same time, he was curious how things work.
"Growing up, I was like always like questioning how certain things work, my freezer, my microwave or like a car," Forrest said.
In the brief time talking with him, WPTV learned a lot about his interests.
"One thing people don't know is that I'm not really a big talker," Forrest said. "In middle school, I used to play an instrument, that's something that nobody knows."
"What is your favorite movie?" Rogers asked.
"Fast and the Furious 9," he said.
"Favorite candy?" Rogers asked.
"Sour Patch Kids," Forrest replied.
"Favorite athlete?" Rogers asked.
"Dwyane Wade," he said.
"If you weren't playing basketball what would you be playing?" Rogers asked.
"I would be running track," Forrest said.
The standout player has big plans for his future, whether it's an engineering job or on the court.
"I'm going to get a summer internship and then play professional basketball," he said.
Scripps Only Content 2023