FAU's Alijah Martin thanks mother for opportunities
'She' the main reason I am here now,' Owls star says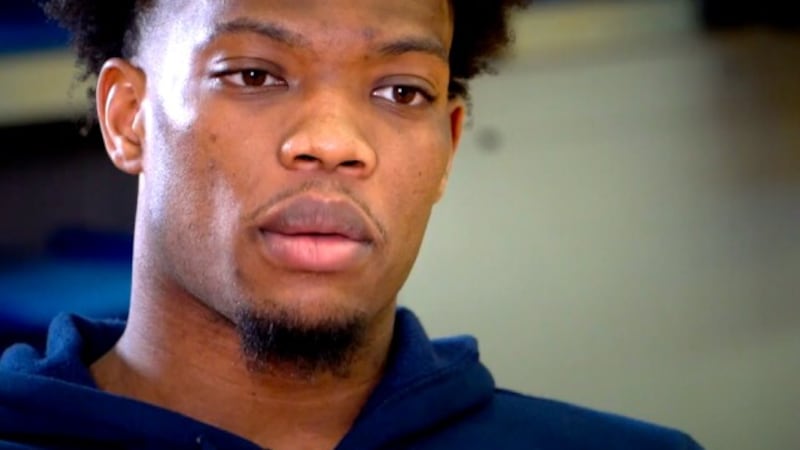 Published: Apr. 19, 2023 at 8:06 PM EDT
Florida Atlantic University guard Alijah Martin has a big smile on his face when he talks about growing up in Mississippi with his mother.
"She's the main reason why I am here now, probably the only reason," Martin said.
"Why do you say that?" asked WPTV anchor Tania Rogers.
"She did a lot. She made things happen," Martin said. "Teachers don't make a lot of money, so to run me to Louisiana two hours away every day for practice, it's not easy. Those are sacrifices that she made."
RELATED: Alijah Martin declares for NBA Draft, but it may not be end of his college career
The star player did his part on and off the court to attract college coaches.
"Probably middle school I started posting workout videos [on] Instagram trying to use the power of social media to get my name out there," Martin said.
His skills caught the attention of FAU Owls coach Dusty May.
"I had a good tournament. I forgot where it was, playing AAU, and then coach offered me [a scholarship] came up to me right after the game," Martin said. "We stayed in touch. [I am] super grateful to FAU for even taking a chance on me. ... They could have gone another route."
The decision to play for FAU paid off with the team making it to the Final Four.
"Everybody was texting," Martin said. "After every game, there were 150 text messages in my phone, a thousand (direct messages). Just the love that the city had for us. It just made us want to keep going."
While basketball is a major part of his life, WPTV wanted to get to know him off the court.
"What is your favorite food?" Rogers asked.
"Mac and Cheese," Martin replied.
"If you could meet an athlete, who would you want to meet?
[Phoenix Suns Guard] Devin Booker," Martin said. "He's from Mississippi. He's on the big stage playing for the NBA on a high level."
RELATED: Boca Raton celebrates FAU men's basketball team
"Favorite candy?" Rogers asked.
"Twix, Skittles," the FAU guard said.
Martin explained the meaning behind some of his tattoos.
"I got 601 area code, Summit the city and Mississippi the state, 39666 the zip code," Martin said. "Then, I've got two angels on both sides of my knee."
A couple of weeks ago, Martin declared for the 2023 NBA draft. He said after his playing career is over his future plans will always include basketball.
"I want to like own a team or a management team, a player agency, staying in the business," he said.
But before WPTV's time with Martin wrapped up, he reminded us that no matter what happens, he promises to take care of his mother.
"I already have it planned out," he said. "I know she is not going to retire. She loves kids, probably get her a huge house, a nice car, every designer clothes."
Scripps Only Content 2023