'It makes me smile:' SunFest volunteers take pride working festival each year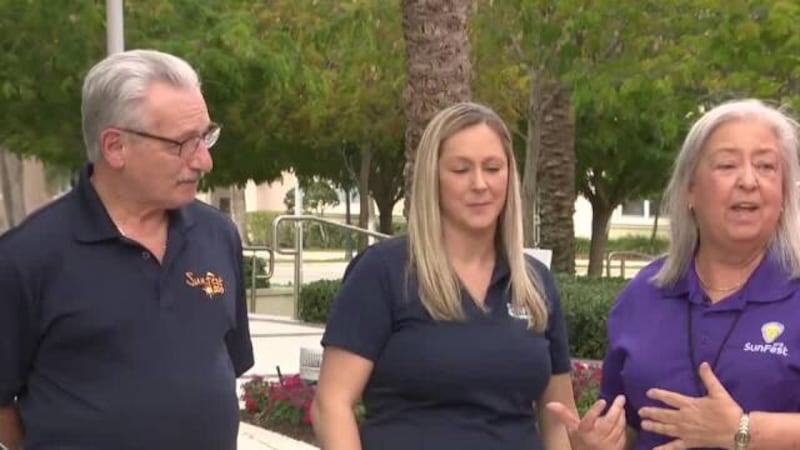 Published: May. 5, 2023 at 3:50 PM EDT
Sunfest is back for the 39th waterfront music festival and it would not be possible without the help of more than 2,400 volunteers.
They're the ones behind the scenes making sure everyone has a safe time at SunFest.
"We'll put up the flags. We'll move banners. We'll put up vision blocks. We'll check for hazards for things that need to be nailed down or tapped down," said Karen Farruggia, vice chair and former chair of the dispatch, carts and radios committee for SunFest 2023.
Her daughter, Danielle Priddy, is the chair of the same committee.
Priddy took over after her mom "retired" after 25 years. SunFest would not be possible without them and the thousands of volunteers that dedicate their time and energy each year.
"It makes me smile to know that they're here having a great time, because of the work we did getting everything set up and ready to open," Farruggia said.
What they do is just as impressive as the decades they've dedicated to a music festival so many have come to love and enjoy.
SPECIAL COVERAGE: SUNFEST
"It was a free concert downtown," Farruggia said. "Who thought that I would end up volunteering and doing as much time as I have? Never would have guessed it."
Farruggia is in her 26th and final year as a volunteer.
"Volunteer work is important in our community," Priddy said. "It's what makes our whole community run."
For Priddy, what started as a high school graduation requirement for volunteer hours turned into 16 years.
"I fell in love and then got asked to join the committee," she said. "I was just enamored with how much fun I had and just kept going."
This year, her family grew by two. Her adorable newborn twins are a part of the journey. Even with her hands full, she still finds the time to volunteer.
"My family; it started with family and the No. 1 reason that I want to instill music into my son, was able to bring him last year to enjoy the concert," Priddy said. "He fell in love with the atmosphere, and I hope to eventually bring my twins into the picture."
Scripps Only Content 2023