World War II tribute planned on Vero Beach island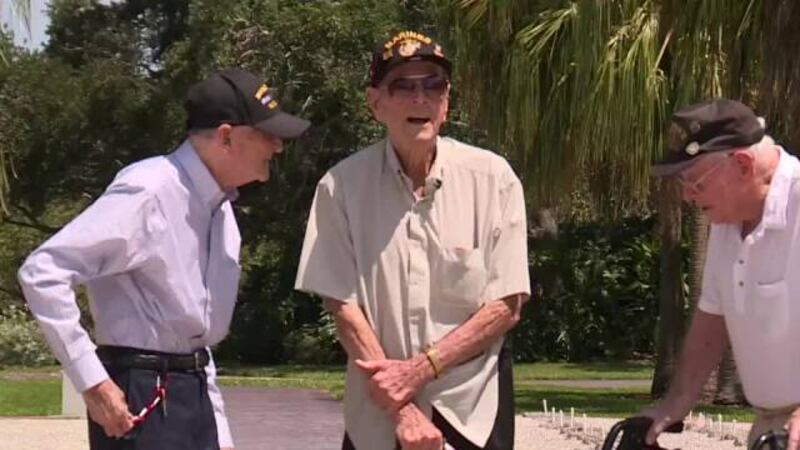 Published: May. 17, 2023 at 6:38 AM EDT
A Treasure Coast island will feature a huge addition that will honor our greatest generation.
The World War II tribute at Veterans Memorial Island Sanctuary in Vero Beach is closer to becoming a reality.
World War II veterans and Indian River county residents Bill Keegan, Chuck Pickard, and Herald Granitur all reflected on their war-time service at the future site of the tribute.
Keegan said, "It will be greatly appreciated. That's for sure."
"People should remember that we fought a war and we won the war," said Granitur.
For them, it's a tribute that's a long time coming
Granitur said, "I'm waiting, if I can live long enough to see it, I'll be very happy."
The island is next to Riverside Park in Vero Beach on the Indian River and already features many monuments.
World War I and Gold Star Families monuments and markers can be seen walking around the island.
In November, plans for construction are expected to start for the World War II tribute starting with rebuilding the pedestrian bridge that connects the island to Riverside Park.
Pickard reflected on his service with the U.S. Marine Corps in the Pacific Islands during World War II.
"I was overseas for over two years. Spent quite a bit of time down there protecting what air force we could squeeze on that island," said Pickard.
Granitur was part of the allied forces invasion in Normandy, France.
"The Germans had all of those roads zeroed in with machine guns. By the end of the first day we had about seven guys left out of my squad," said Granitur.
Now their memories will live on through this new tribute.
Pickard said, "Couldn't be nicer. We're darn lucky we have a nucleus of people here, many of them right here today that are willing to put in the time and the effort to make it what it is."
Part of that veteran group was there while the World War II veterans were there, with renderings of the tribute and a message.
Retired U.S. Army Colonel Tony Young said, "We're going to, by gosh, get this accomplished in short order for those men that are still here from the greatest generation."
Michelle Dale is president of American Gold Star Mothers of Indian River County. She presented a check for $2,500 that will go toward construction costs of the tribute.
Keegan served in the Army as a medic in the European theater of World War II. He also helped liberate a Nazi concentration camp.
Keegan said, "I think Vero is so lucky to have an island like this. They're blessed, I would call it. Just like I think I am in many respects."
The Cultural Council of Indian River County and veteran support groups hope to have the tribute finished by Memorial Day 2024. Funds are still needed to make that happen.
If you would like to donate to the cause, mail checks to:
Cultural Council of IRC – WWII Tribute 1216 21st Street, Suite 1 Vero Beach, FL 32960
Scripps Only Content 2023