Kids shave heads and raise money to prevent childhood cancer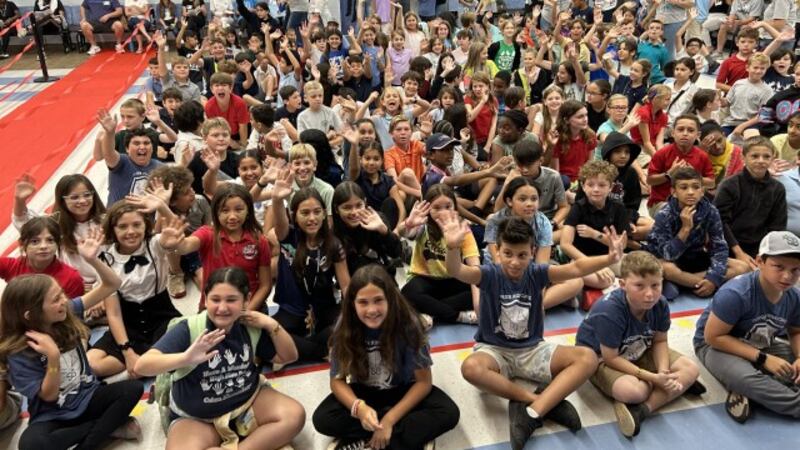 Published: May. 19, 2023 at 12:30 PM EDT
Jamie Kshonz has taught at Calusa Elementary School for 20 years. 12 of those years she's brought her passion for preventing childhood cancer to the student body by partnering with the St. Baldrick's Foundation.
The students and staff donate hair and fundraise.
"I've feel like cancer is just a word that we all know, unfortunately. And I love children and I love people and I think that this is what we do to try to help others and show kindness and joy," said Kshonz.
She and her co-chair, Joanne White, have helped raise over $500,000 at their annual St. Baldrick's events. White appreciates the community's participation.
"Everyone is coming together to raise money for a common goal--for a disease that affects so many people across the country and the world and especially children. [We talk about it a lot with the students] leading up to the event and the kids really do start to understand and start to know that they make an impact with through raising money," said White.
Fifth grade student Moe Harv raised the most, around $5,000, he was inspired because his brother had cancer.
"My brother had cancer in his right eye and honestly, it just really inspired me... ...I wasn't even born at that time. So when he had cancer, I was just getting born. So it was probably very hard for my parents. I just want to do this just to remind everyone to not give up and yeah, don't give up and do whatever your heart desires," said Harv.
Fifth grade student Tristan raised nearly $2000 and was inspired because of the death of the school's infamous coach who passed away.
"His name was Coach Johnson. And I only met him in kindergarten then he passed away... but he was an amazing person. He was always kind, he loved picking up trash and doing good things. He was just an amazing person. So that's why I want to [participate]," said Tristan.
Grace Marie Curra said she has donated hair three times. This year she is donating 8 inches.
"My coworker was Coach Scott Johnson, awesome guy, best guy ever. [The St. Baldrick's event] was his favorite event of the year. We just like to keep his spirit alive and keep doing this every year," said Curra.
This year the school has raised over $35,000 and are asking the community to participate.
Click here to donate.
Scripps Only Content 2023