St. Lucie River railroad bridge to reopen Monday to boaters during daytime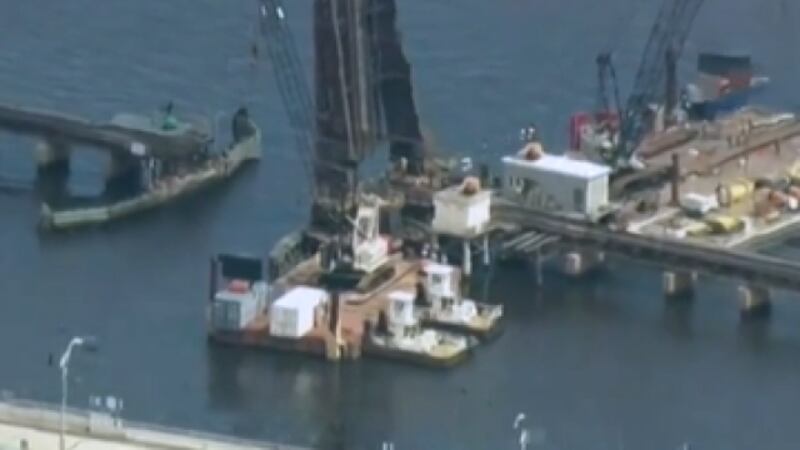 Published: May. 21, 2023 at 2:30 PM EDT
The three-week closure of the St. Lucie River railroad bridge for boaters ends Monday after being locked in the down position for 21 days as Brightline completes its Orlando expansion project.
The bridge is scheduled to reopen to boaters 6 a.m. to 8 p.m. daily until May 29 when work will be complete, according to Brightline.
The bridge will stay locked in the open position 6-7 a.m. and 7-8 p.m. daily, restricting passage by trains, and resume normal operations between those times. It will return to full normal operations at 6 a.m. on May 29, Brightline said.
Brightline crews had said they would "work around the clock, 24/7, to complete the work."
The project includes replacement of the mechanical components, electrical and control components and machining of the four trunnions in place. Trunnions are axles on which the drawbridge rotates.
From April 16-19, the bridge was in the up position and closed to freight traffic as part of the rehabilitation project.
The bridge work is part of plans to begin passenger-rail service this year between Miami and Orlando International Airport. Brightline hopes to have 32 trains a day crossing the bridge.
In February, the U.S. Coast Guard approved the private railroad service's request for temporary modification to drawbridge operations to rehabilitate the 98-year-old railroad bridge that currently is being used for occasional freight service.
Once the work is complete, boaters will see several benefits including dependability of bridge openings and closings, reducing the risk of unplanned closures.
The bridge work is part of efforts before starting service to Orlando, including a real-time bridge opening and closure app, countdown clock at the bridge and a bridge monitor.
"The St. Lucie River bridge represents one of the final construction projects along our Orlando extension," Michael Cegelis, executive vice president of Rail Infrastructure and Development for Brightline. "This work is necessary to assure that the bascule span can open reliably for marine traffic and close for freight and high-speed passenger rail. The new mechanical and electrical systems will greatly reduce the risk of unplanned closures that would impact all three user groups."
On Feb. 17, U.S. Coast Guard Rear Adm. Brendan McPherson told U.S. Rep. Brian Mast, R-Fort Pierce in a letter that the agency is allowing Brightline to move forward with the 21-day closure.
Scripps Only Content 2023