World War II merchant mariner from Vero Beach receives highest honor for service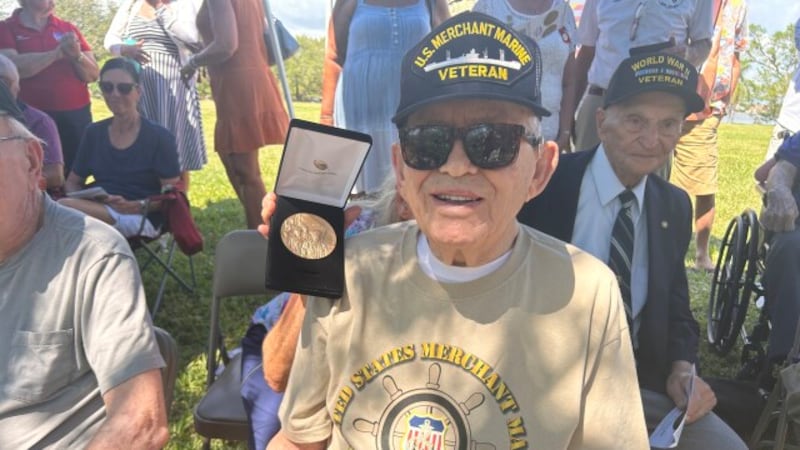 Published: May. 22, 2023 at 3:55 PM EDT
The highest award a U.S. Merchant Marine can earn was given to a 100-year-old World War II veteran in Vero Beach Monday morning.
The medal presentation happened at Veterans Memorial Island Sanctuary.
It's something Floyd York of Vero Beach never thought he'd see.
"We've waited a long time for the merchant marine to be recognized," he said.
Surrounded by fellow veterans, friends and family, York was honored for his service with a replica of his World War II Merchant Marine Gold medal.
"I enjoyed working in the merchant marines, If I hadn't been a married man I might have tried to stay on longer," he said.
U.S. Merchant Marines are civilian sailors that operate ships, carrying commercial goods around the world.
It was a very dangerous job in World War II, it's estimated more than 9,000 U.S. merchant marines lost their lives during the war.
Merchant Marine World War II veteran Thomas Cavallo made the trip from Kissimmee to see this ceremony.
"That's what I was most scared of: Subs. All of the sudden your convoy is 50, 60 ships and boom," Cavallo said.
Now, there's a permanent spot to reflect on their service on this island, with a new Merchant Marines monument, honoring those who served during the World War II era.
With a rifle salute, colors and a bugler playing taps, it was emotional for many in attendance.
"A smile and a tear," Cavallo said.
And a new way to honor these veterans for a long time.
Scripps Only Content 2023