'Buoy' the cat, rescued from a sinking boat, needs good home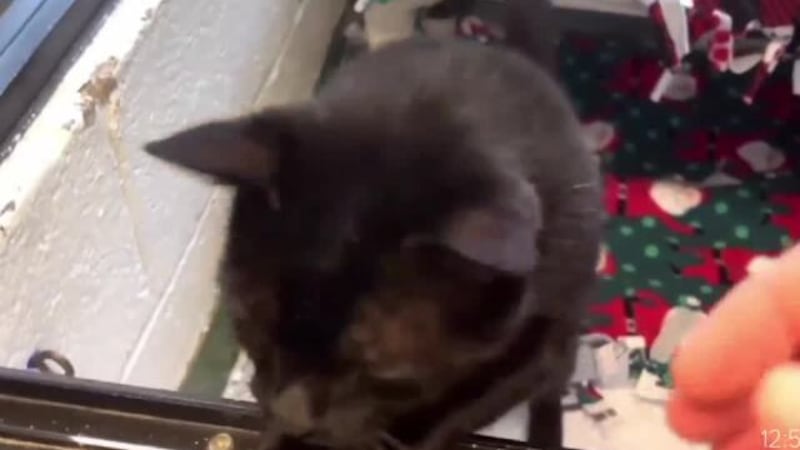 Published: May. 24, 2023 at 3:15 PM EDT
Among the many dogs and cats at area shelters that need a good home, the story of "Buoy" stands out.
The 7-year-old black cat was rescued from a sinking boat, according to Palm Beach County Animal Care and Control.
"Buoy is 7 years old, and he was actually rescued from a sinking boat. He was actually abandoned on this boat, and luckily enough somebody noticed him and the coast guard was able to pick him up, save him, and bring him to us," Melanie Perazzo said.
He is likely to be very affectionate to his forever family, once they find him.
"He's been through a lot through a relatively short period of time, but his personality, his attitude is just amazing. He loves pets, he loves to cuddle with you. He's not shy at all, he's just a great cat and he's just looking for a new family that will love on him so much, he's ready for a new home," Perazzo said.
He weighs about 7 pounds and he's been in the shelter since mid-May.
"It's tough, and he did get a name from it, his name is Buoy. But he's in great spirits, he's such a lovable, friendly, social cat, just looking for a new family to love on him," Perazzo said.
You can adopt Buoy and learn more about him here.
"Very unusual, all we know is that unfortunately he was abandoned so maybe at the time of the sinking boat he was left there, but he was there, he survived, he was just waiting for someone to come get him. And luckily, someone did. And he was rescued and now it's time for his second chance to find love," Perazzo said.
You can see all of the dogs, cats, and other animals up for adoption at Palm Beach County Animal Care and Control here.
The shelter is working hard to "Clear Kennel 1" of its longest resident dogs. There are currently 60 adoptable dogs in Kennel 1, and the shelter is above capacity.
Palm Beach County Animal Care and Control is overcrowded and there's a great need for adoptions. If you can't adopt, you can consider fostering a pet, or donating items that will make the pets more comfortable through the shelter's Amazon Wish List.
Currently, the shelter is offering a number of incentives to families who adopt. Adoptions, microchips, vaccines and tags are at a greatly reduced fee.
PBCACC said each adoption will ensure the pets are spayed/neutered, vaccinated, microchipped and have county license tags. Adopters also receive a free Health Care Certificate that offers a free exam for their pet from participating veterinarians, with a savings up to $500, and a bag of Hill's Science Diet pet food.
Look through the adoptable pets online here. The foster/adoption application is completed in person, no appointment is needed.
The adoption center hours are Monday to Friday, from noon to 6 p.m., Saturday from noon to 5 p.m., Sunday from noon to 4 p.m.
The shelter is located at 7100 Belvedere Rd. in West Palm Beach, just west of the Florida Turnpike.
For more information, please call (561) 233-1200 or visit www.pbcgov.com/animal
Scripps Only Content 2023