Tributes pour in for Tina Turner after her death at 83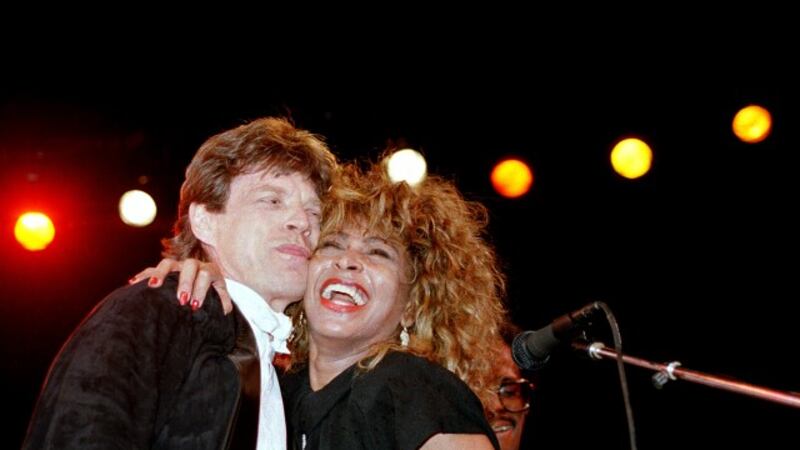 Published: May. 24, 2023 at 10:50 PM EDT
From Rolling Stones lead singer Mick Jagger to NBA legend Magic Johnson, many paid tribute to music superstar Tina Turner following her death on Wednesday.
The "What's Love Got to Do With It" singer died at the age of 83 after a long illness in her home in Küsnacht near Zurich, Switzerland.
Jagger said he's saddened after hearing about the passing of his friend Turner, with whom he performed in 1985.
Johnson posted a photo on Twitter with him Turner calling the singer one of his favorite artists of all time.
Erykah Badu said Turner was a "cultural icon," while Alicia Keys viewed her as a warrior.
Here is a collection of tributes for Turner:
"I'm so saddened by the passing of my wonderful friend Tina Turner. She was truly an enormously talented performer and singer. She was inspiring, warm, funny and generous. She helped me so much when I was young and I will never forget her."
— Mick Jagger said on Instagram. Turner performed with Jagger during a show in 1985 and toured with the band in the '60s.
"We have lost one of the word's most exciting and electric performers. A total legend on record and on stage. She was untouchable. Condolences to Erwin and her family. The saddest news."
— Elton John said on Instagram.
"How do we say farewell to a woman who owned her pain and trauma and used it as a means to help change the world? Through her courage in telling her story, her commitment to stay the course in her life, no matter the sacrifice, and her determination to carve out a space in rock and roll for herself and for others who look like her, Tina Turner showed others who lived in fear what a beautiful future filled with love, compassion, and freedom should look like. Her final words to me — for me — were 'You never mimicked me. Instead, you reached deep into your soul, found your inner Tina, and showed her to the world.' I shall hold these words close to my heart for the rest of my days."
— Angela Bassett, who played Turner in the 1993 film "What's Love Got to Do With It," said.
"Tina Turner was raw. She was powerful. She was unstoppable. And she was unapologetically herself—speaking and singing her truth through joy and pain; triumph and tragedy. Today we join fans around the world in honoring the Queen of Rock and Roll, and a star whose light will never fade."
— former President Barack Obama said on Twitter.
"In addition to being a once-in-a-generation talent that changed American music forever, Tina's personal strength was remarkable. Overcoming adversity, and even abuse, she built a career for the ages and a life and legacy that were entirely hers."
— President Joe Biden said in a statement.
"Rest in peace to one of my favorite artists of all time, the legendary queen of rock n' roll Tina Turner. I've seen her many many times and hands down, she gave one of the best live shows I've ever seen. She always gave you your moneys worth."
— NBA legend Magic Johnson, who posted a photo with him and Turner on Twitter, said.
"Cultural Icon down. Safe Journey Anna Mae Bullock. You were HERE."
— singer Erykah Badu said on Instagram.
"Heaven has gained an angel. Rest in Paradise Tina Turner. Thank you for the inspiration you gave us all."
- singer Ciara said on Twitter.
"What a woman, what a life, what a warrior!!! The day I met you Ms Tina, I couldn't believe I was standing in the presence of your greatness!! (Thanks to my big sis @oprah!!!) I got to celebrate and thank you for all the love you've poured out around u. The songs you sang gave us courage to step out and be our full selves. You are a fierce force as a woman and a performer! All of these things have been beacons of light for not only me, but all the people around the world finding ourselves and our fearlessness, through our vulnerability!!"
— Alicia Keys said on Instagram.
"Truest rocker. Greatest performer. Most profoundly sexy woman. What a dynamo, what a story, what a heroine. Always an energy inspiration for me, always tapping the source. Tina forever. Man. Always been in awe of her and the infinite power."
— Red Hot Chili Peppers bassist Flea said on Instagram.
"A Survivor and a Badass. Every note she sang shook the room and shook your soul. There will never be another like her. Shake the roof off of Heaven Tina Turner."
— musician Diane Warren said on Twitter.
"Tina Turner was iconic, talented, and fierce. What a journey. What a life, filled with great highs and great lows. She left an abusive marriage. She found love again. She made her way in this world, selling millions of albums. She became a mother, she experienced terrible sadness, and she still kept going. She brought joy to so many, even when she was experiencing such tragedy. I've always admired her. I first met her as a teenager and followed her throughout her inspiring life. May we honor Tina, and may we continue to play her music loudly and dance!"
— former NBC News anchor Maria Shriver said on Twitter.
Associated Press 2023