Kids harvest food for Boys and Girls Club of Martin County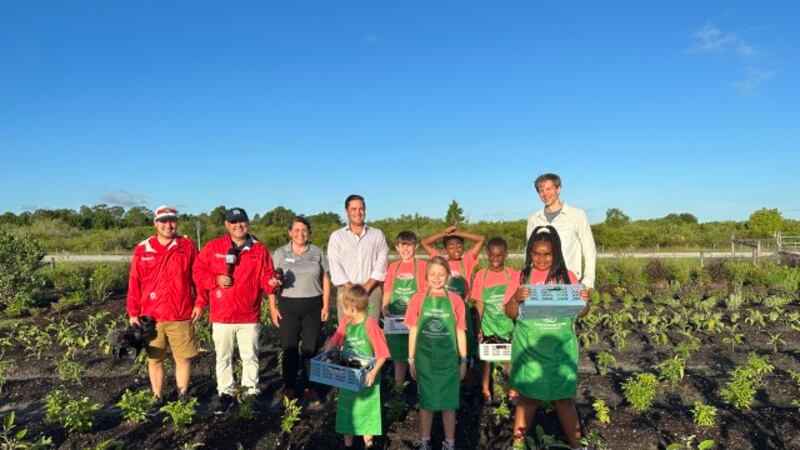 Published: Jun. 5, 2023 at 2:31 PM EDT
Kids are learning how to garden for their community at a new housing development in Palm City at Newfield Farms.
Newfield development near Palm City is set to break ground later this year, bringing 4,000 new homes to Martin County.
The project includes 2,300 acres of open space with trails, parks, and a working farm. The Boys and Girls Club of Martin County went to the farm in March to do community-based gardening. Monday morning, they revisited their project to see what was sprouting.
"We're gonna have a mixed-use town center that's going to have restaurants, and it's all anchored by this farm, which will ultimately be over 115 acres and a robust trail network on the 70% of the land that's preserved here," said James Fitzgerald, senior manager of community development and planning of property developer Mattamy Homes.
Clients of the Boys and Girls Club planted peppers, herbs, eggplants and more and on Monday morning started harvesting. "[The members were] high energy [as] they came running off [the bus] even though it's bright and early in the morning, they came running," said Jennifer Durant, resource development director for the Boys and Girls Clubs of Martin County. "They are just very excited and happy to bring the produce back to their fellow club members and I'm sure chef will whip up something delicious for everyone out there."
Due to food insecurity, Durant thinks learning how to grow and harvest food is important.
"About 82% of our families are on free or reduced lunch and we work to make sure that all of the kids get fed at the clubs," Durant said. "Also, we provide the families with produce boxes, food boxes whenever the schools are closed to ensure that our all of our families have access to healthy, nutritious food."
Mattamy said laying the agricultural footprint down first in this master-planned community is important.
"Food and farming can really be a social hub and bring people together and build those relationships and connections," said Justin Myers, COO of Agmenity, which is a company that specializes in community farming. "And that's by having that as like kind of like your initial pillar. There's a lot of opportunities that can kind of brand from there."
Scripps Only Content 2023