Daisy, longest dog resident of Palm Beach County shelter, needs good home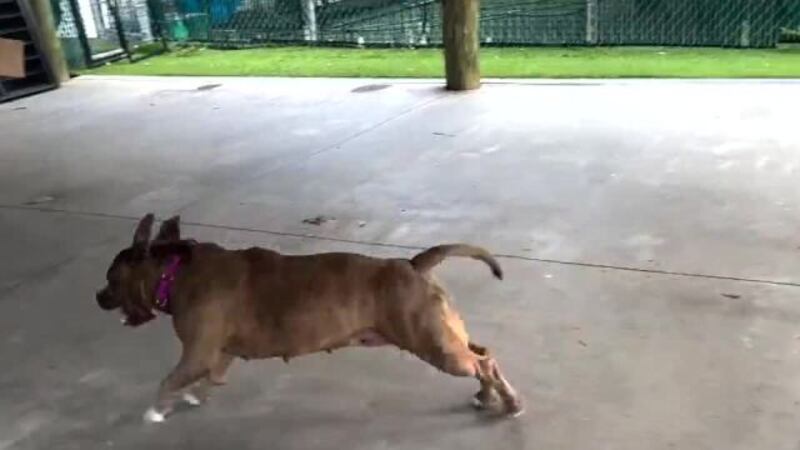 Published: Jun. 21, 2023 at 9:31 AM EDT
Daisy, the longest resident dog that shelter staff calls a "meatball" and "perfection," needs a good home.
"Daisy" got the "zoomies" while our cameras were rolling at Palm Beach County Animal Care and Control. She has been in the shelter since late January 2023 and is the longest resident.
"She is such a momma dog, she is highly tolerant of dogs, of other people, she is just very sweet, very funny too," explained Melanie Perazzo.
During a recent excursion with a volunteer, it was reported that Daisy loves car rides and does great during bath times.
"We think she would even do well with a family, with some kids. She is just a great personality," Perazzo explained.
Learn more about Daisy by clicking here.
Perazzo says, "We see her running out here, we also see her on a couch, being a couch potato."
Palm Beach County Animal Care and Control is overcrowded and there's a great need for adoptions. If you can't adopt, you can consider fostering a pet like Jackson, or donating items that will make the pets more comfortable through the shelter's Amazon Wish List which you can find here.
Currently, the shelter is offering a number of incentives to families who adopt. Adoptions, microchips, vaccines and tags are at a greatly reduced fee.
PBCACC says each adoption will ensure the pets are spayed/neutered, vaccinated, microchipped and have county license tags. Adopters also receive a free Health Care Certificate that offers a free exam for their pet from participating veterinarians, with a savings up to $500, and a bag of Hill's Science Diet pet food.
Look through the adoptable pets online by clicking here. The foster/adoption application is completed in person, no appointment is needed.
If you're interested in the Foster2Rescue program, email ACCFoster@pbcgov.org
The adoption center hours are Monday to Friday, noon – 6 p.m.; Saturday, noon – 5 p.m.; Sunday, noon – 4 p.m. PBC Animal Care and Control is located at 7100 Belvedere Road, West Palm Beach, just west of the Florida Turnpike. For more information, please call 561-233-1200 or click here.
Scripps Only Content 2023