Dog described as 'goofy' and 'playgroup rockstar' up for adoption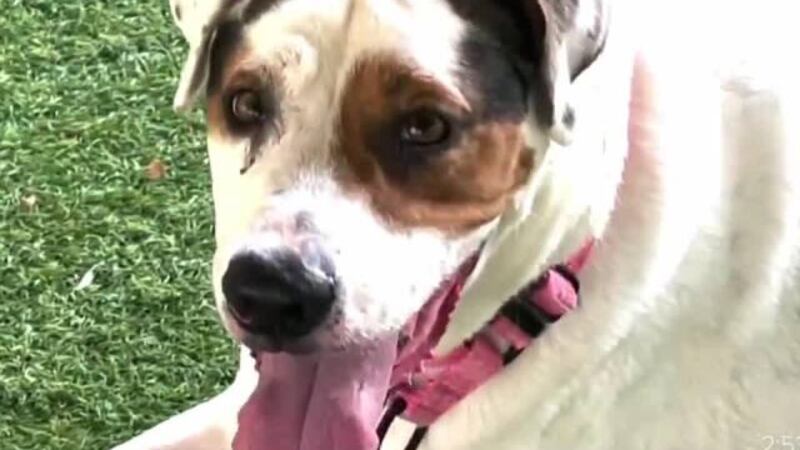 Published: Jun. 26, 2023 at 3:11 PM EDT
Bandit is one of the longest residents at Palm Beach County Animal Care and Control, but there is no reason this sweet dog should still be waiting for adoption.
He has been waiting for a forever home at the shelter since early February. During WFLX's visit, he rolled over and showed his belly, calming down after a playful 15 minutes.
"Bandit, he's a playgroup rockstar, so when we have our dogs out, our playgroups going, he is just a great dog, a great dog to have out here with other dogs," explained Melanie Perazzo. "He does really well. He actually has a gentle playing style."
She even called him a "little goofy" and said Bandit loves to play outside.
"He is actually really good on a leash too, so what more could you ask for? I'm not sure," Perazzo said.
This 3-year-old dog has energy, but is not like a puppy, which might mean he's a perfect fit for the right home with the right balance.
Bandit is part of Life with Reef's OPERATION HOMEWARD BOUND program, which means adopters will receive a free collar, leash, bed, preventatives and more.
Palm Beach County Animal Care and Control is overcrowded and there's a great need for adoptions. If you can't adopt, you can consider fostering a pet, or donating items that will make the pets more comfortable through the shelter's Amazon Wish List.
Currently, the shelter is offering a number of incentives to families who adopt. Adoptions, microchips, vaccines and tags are at a greatly reduced fee.
PBCACC said each adoption will ensure the pets are spayed/neutered, vaccinated, microchipped and have county license tags. Adopters also receive a free health care certificate that offers a free exam for their pet from participating veterinarians, with a savings of up to $500, and a bag of Hill's Science Diet pet food.
Click here to look through the adoptable pets online. The foster/adoption application is completed in person, no appointment is needed.
If you're interested in the Foster2Rescue program, email ACCFoster@pbcgov.org
The adoption center hours are Monday to Friday, noon to 6 p.m.; Saturday, noon – 5 p.m.; Sunday, noon – 4 p.m.
Palm Beach Animal Care and Control is located at 7100 Belvedere Road in West Palm Beach, just west of the Florida Turnpike. For more information, please call (561) 233-1200 or visit www.pbcgov.com/animal
Scripps Only Content 2023