New veterans nursing home in Port St. Lucie slow to fill spots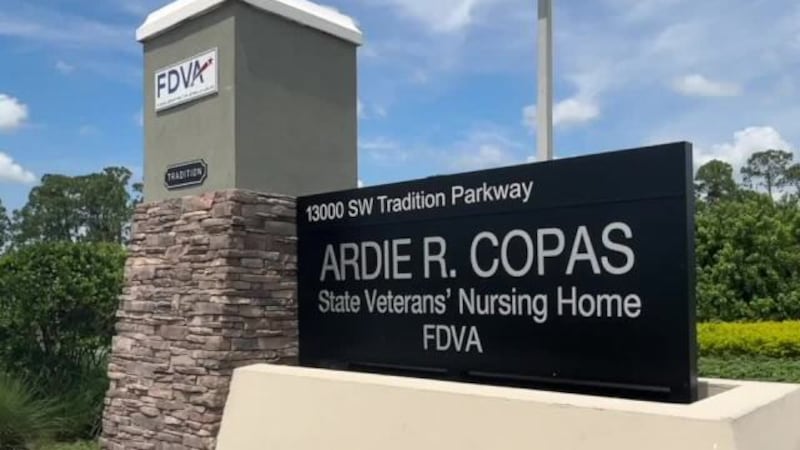 Published: Jul. 5, 2023 at 5:35 PM EDT
There are nearly 1.5 million veterans who live in Florida and taking care of them is a big responsibility.
But even when there are successes to celebrate, there are challenges to make sure all our veterans have a good home.
There was a Wednesday celebration that marked one year since the opening of the Ardie R. Copas State Veterans' Nursing Home in Port St. Lucie.
Retired Marine Corps Maj. General James Hartsell, the executive director of the Florida Department of Veterans Affairs, said there's a waitlist for space at the home.
"Basically, it's much less expensive for a family to have a veteran in this home than in any other of our homes because it's a veterans nursing home, and there are subsidies from the federal government," Hartsell said.
The home is a 120-bed, state-of-the-art facility. There are an estimated 30,000 veterans in St. Lucie County alone.
With a waiting list, you'd think that all the beds would be filled, but that's not the case right now. There are still wings that are empty, and it comes down to having enough staff.
Jose Capellan sees about 500 veterans a month as head of St. Lucie County's Veteran Services office. He would like to see this facility fill up.
"If the state would raise its salaries, it would keep more people here," Capellan said.
Nursing Home Administrator Donna Rogers said they have about 100 employees right now.
"You really have to have a nurse on 24 hours a day in each home," Rogers said.
Rogers said they recently had a hiring push that will allow them to bring another 20 residents in the coming weeks and increase employee pay.
"Anyone that was hired before June 1 will receive that 5% increase," Rogers said.
Hartsell said it comes down to hiring the right people, and the best people to care for the residents.
"Now that we've got that on board and everything has been checked positively, now we're going to start filling the rest of the home," Hartsell said.
The hope is to fill the entire facility by next July.
Among those hoping it continues to succeed is Betsy and Shyrell Copas, who visit often.
They are the wife and daughter of the soldier who gave his life for our country and has his name on the facility.
"The one thing that touches my heart is we get to see that name help many people for years to come," Shyrell Copas said.
Scripps Only Content 2023