Volunteers needed to landscape disabled veteran's home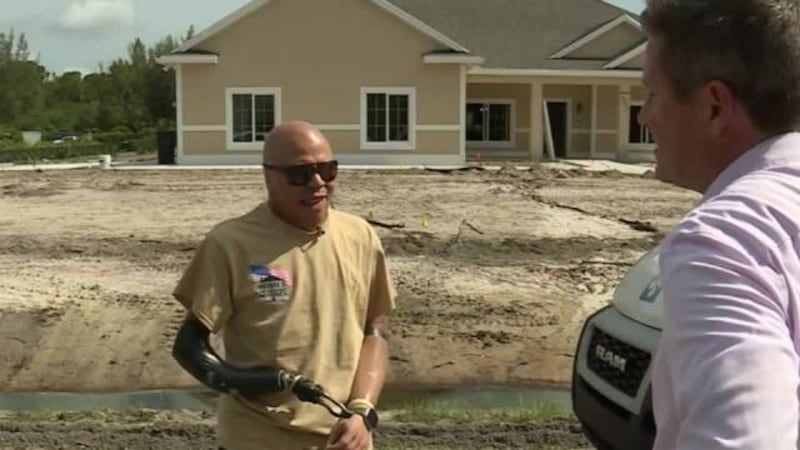 Published: Jul. 13, 2023 at 10:01 AM EDT
Raising a family is about to get a little easier for a disabled veteran, and it's all coming free of charge.
Juan Amaris talked with WFLX anchor Mike Trim at the Palm Beach County home which is nearing completion. The home is provided by non-profit Homes For Our Troops.
"It's a blessing," Amaris said.
A blessing after a long journey to get to this point.
In 2006, Amaris was burned on 75% of his body after an explosion at his US Army base in Iraq. Eventually, due to nerve damage and pain, Amaris had his hands amputated.
Now, the Broward County native is moving to Palm Beach County for this new beginning.
"God never gave you more than you can handle, it's very true," said Amaris. "Anything that happen to me, bad or positive, I never judge. I just know it happened for a reason. What happened to me, it teach me, one of them, having patience and the second one is not taking anything for granted. I'm grateful."
Homes for Our Troops reports the non-profit has built more than 350 homes for veterans since 2004. They are specifically adapted for the disabled veterans needs.
This Saturday morning, July 15, Homes For Our Troops is asking for volunteers to help landscape Amaris' yard. It's another thing Amaris is thankful for.
"I'm blessed to be able to raise my kids and to see them. Now look, I'm going to provide a home for them, you know, thanks to this organization," said Amaris.
If you'd like to volunteer, the address is 12273 69th St. North in the Acreage area in Palm Beach County. Check in is at 7:30 AM, the work starts at 8 AM. Volunteers should bring gardening gloves. You'll receive a free t-shirt and lunch.
Scripps Only Content 2023