Violinist finds redemption helping others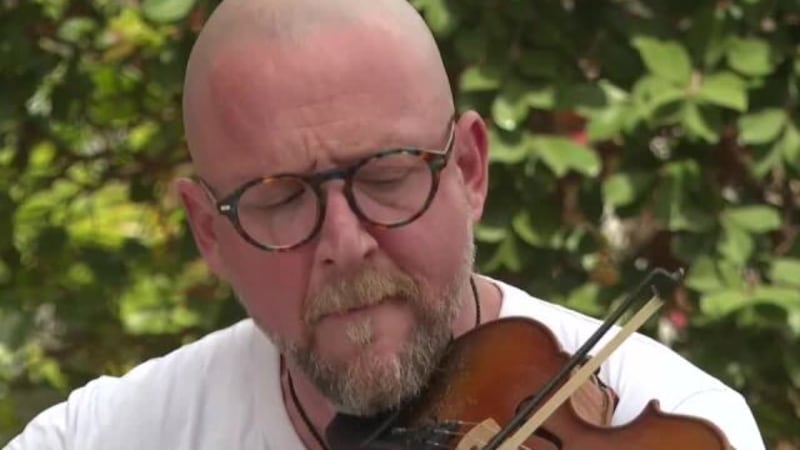 Published: Jul. 15, 2023 at 11:20 AM EDT
A man who has played with some of the greatest musicians of our time says his most life-changing performance was in front of a group who didn't care about any of that.
In many ways, the violin speaks volumes for Carl Schmid.
"It has a lot of sadness at times, there's a lot of beauty in it, and it kind of encompasses life I think in a lot of different ways," the local musician said,
His ability with the instrument started when he was 3 years old, handed a Cracker Jack box with a ruler attached.
"At 13 I got to play Carnegie Hall for the first time of six times," Schmid said. "And I was kind of one of those childhood prodigies."
In his teens into his 20s, Schmid discovered drugs and spiraled. Alcohol and substance abuse took a fierce grip on his life and he even contemplated suicide.
"Anybody who's lived in active addiction knows it's a special place in hell."
In and out of 17 treatments and countless clinics, he would improve, then implode. He shared one of his mugshots, convicted as a felon multiple times on drug possession charges.
In 2015, he was convicted of tampering with physical evidence and possession of paraphernalia in Delray Beach. He served 30 days in an inpatient facility.
"Just the worst. The worst feeling. And you can see it in my eyes, there's just nothing there. There's no life. There's just hopelessness you know.," Schmid said.
He said he hadn't cried in decades and was hardened with addiction. One Christmas, just a few weeks sober, he posted to Facebook, offering free music, and a teacher responded. With a small group of musicians who were also struggling against mental health issues and addiction, they played for a group of children with special needs.
"This little kid named Lily, this kid with cerebral palsy, a 7-year-old, limped over to me and gave me this hug," he said. "And this hug did more for me than 17 years of treatment, it did more for me than therapy, it did more for me up until that point.
"All she said is 'I love you and I'm glad you're here.' And I hadn't heard 'I love you, I'm glad you're here.' Trust me when I tell you I'd alienated my family and everything else. This little kid's hug did something for me that nothing else could."
The gratitude and what it would do was just beginning. He created what he calls the "Grace Notes Project," in 2017, while living in Austin, Texas. Artists and musicians in recovery have joined him for free performances. They serve special needs, elderly, at-risk, and underserved populations.
At a recent performance for Arc in West Palm Beach, the entire room of people was dancing, singing, clapping, and thanking the group.
David Perry, a musician at the performance, explained, "I think music has an incredible power of healing, it's really important for people who are going through any sort of mental health difficulty."
Saint Kenaire is another musician who performed.
"Life generally, gets better when I practice music, and I know he feels the same way about it, it's a way of life," she said. "What they did for me was beautiful."
Schmid's musical journey has taken him around the country, playing a spectrum of sounds with stars including Jason Newsted of Metallica and Jason Newsted and the Chophouse Band, and Steven Tyler of Aerosmith. Yet, this gentle and pure exchange between musician and listener is Schmidt's favorite.
"You build self-esteem by doing esteem-able acts. We don't just wake up one day and decide I'm going to be better I'm going to change everything about myself," he said.
Schmid said the experiences have redefined what the instrument and his personal gifts mean. He's seen the beauty of this opportunity play out in the lives of other musicians too.
"If you want to see God, you can see God in the eyes of a special needs kid. And just the innocence and the unabashed joy that comes out of these folks, they're not fronting, they're not putting on a mask. They're just them, and they're just love. You know?" he said.
Schmid said they never charge money for their concerts and they operate with a small overhead. They are now seeking grant writers to make Grace Notes a bigger reality. They accept live requests for music.
To help, you can contact Schmid directly at 828-778-2702 or donate online at http://scarsfoundation.org
Scripps Only Content 2023