Port St. Lucie officer returns to work after being hit by car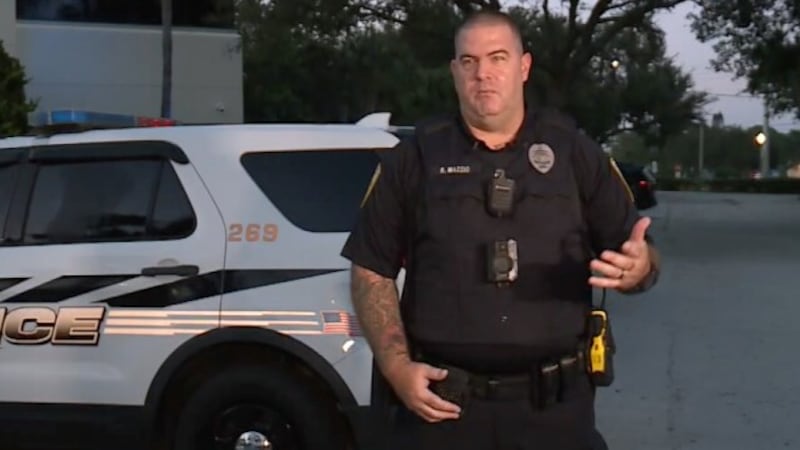 Published: Jul. 21, 2023 at 4:10 PM EDT
A Port St. Lucie police officer is back on the beat months after he was hit by a car, resulting in serious injuries last fall.
Officer Richard Mazzio was once again patrolling the streets Thursday night.
"I mean with the Port St. Lucie family and us being police officers, and the word quit is not in our vocabulary," Mazzio said.
He was off the job for nine months. In October of last year, he was hit by a car while directing traffic.
"In my rotator cuff, I had injuries. I had a bone that was protruding through my shoulder," Mazzio said. "I've had nerve damage. I had 12 staples in my knee. I've had different injuries that would be lifelong, and we are still trying to evaluate them at this time."
Now, he's back to work after months of working hard to regain his strength.
"I had physical therapy five days a week because I had numerous body parts [that needed rehabilitation]," Mazzio said. "I would sometimes do two body parts in a day or maybe one body part in a day, but I was there five days a week."
The department is also glad to see him back on the job.
"Nine months later, I know it was a tough recovery for him," Cmdr. Kacey Donnell of the Port St. Lucie Police Department said. "We spent a lot of time communicating with his family and reaching out to him and letting him know we still supported him, and we wanted him back just as soon as possible."
Donnell said his return is a welcome sight.
"It's an elating feeling to see him back in uniform and see him working again and being a part of our team," Donnell said.
Mazzio was also happy to be back to work.
"It's a very humbling experience and I'm just happy to be back," Mazzio said. "It's like a kid on the first day of school you're ambitious to go in there and learn and educate yourself, but you are also nervous at the same time."
With Mazzio back at work, the department has a message for drivers.
"I ask that when people see police lights out there, and they see officers on the scene, that they slow down," Donnell said. "That should be an instinctive response unfortunately it's not all of the time."
"A lot of people have my back. A lot of people reached out. Even people that I didn't know reached out," Mazzio said. "I'm happy to be an officer in this city."
Police said the driver who injured Mazzio was cited for reckless driving.
Scripps Only Content 2023