16th annual Tour de Turtles Saturday morning in Vero Beach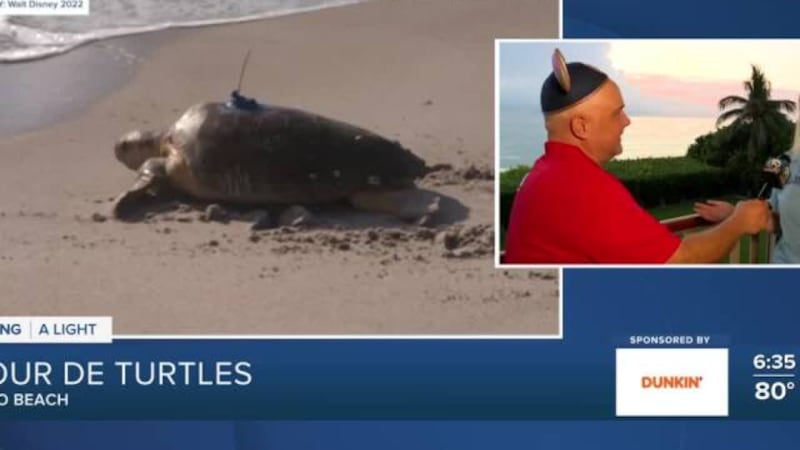 Published: Jul. 28, 2023 at 11:45 AM EDT
Two turtles, Madame Leota and Harriet, named after Disney's new live-action movie Haunted Mansion — released Friday — will compete in the Tour de Turtles on Saturday.
The two female empowered turtles will be fitted with satellite transponders and then be returned to the ocean at 7 a.m. from Disney's Vero Beach Resort.
The race doesn't start then, it begins against other released turtles from all over the Caribbean starting Aug. 1 and ends at the end of the turtle nesting season on Halloween.
The public is invited to track the turtles for free by clicking here.
Many areas along the Treasure Coast are seeing record-breaking turtle nests this year.
On Wednesday, Loggerhead Marinelife Center (LMC) broke its all-time sea turtle nesting season record after counting more than 20,998 nests along a 9.5-mile stretch of beach.
"We're seeing an overwhelming amount of sea turtle nesting activity this year across Florida but specifically here at Disney's Vero Beach Resort. It's the 20th anniversary of our sea turtle program and the turtles seem to be here to celebrate," said Rachel Smith, who is the Conservation Programs Manager at Disney Conservation.
Smith can also be seen in The Magic of Disney's Animal Kingdom on Disney+.
Half-way through the season the Disney Conservation Team has recorded 2,000 sea turtle nests, which is well above the average 1,500 nests they normally see in the five-mile stretch of beach they are responsible for at Disney's Vero Beach Resort.
"We don't completely understand all the drivers that are causing this influx of turtle activity this year. But I think it's safe to say that we can credit the long-term conservation efforts of folks across the entire state and the country. This being the 50th anniversary of the U.S. Endangered Species Act this year and the Turtles seem to know that and we're seeing just an absolutely crazy number of turtles coming up and nesting on our beaches this year, multiple species," Smith said.
The experts at both facilities said it takes sea turtles 20-30 years to return to their nesting grounds. The Disney scientist said we could be seeing a second generation of turtles coming back to South Florida beaches thanks to conservation efforts started 50 years ago.
"It's nice to have a conservation success story once in a while," Smith said.
Scripps Only Content 2023