New innovative high school in Indiantown preparing students for college, careers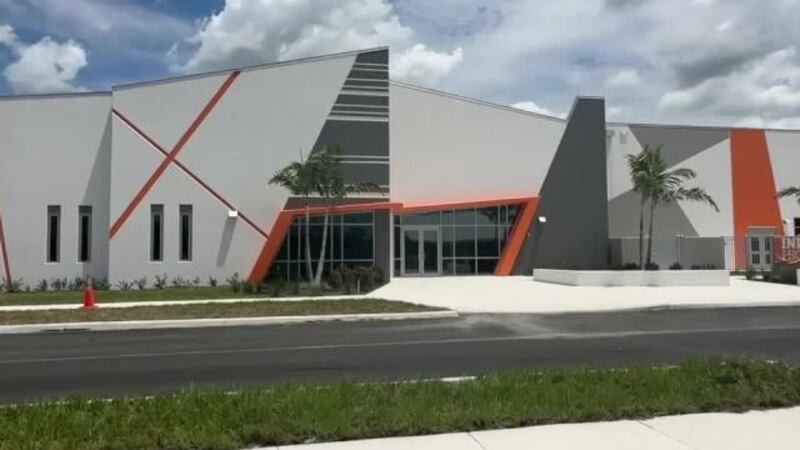 Published: Aug. 2, 2023 at 6:50 PM EDT
The ribbon was cut Wednesday on a new 61,000 square foot high school building in Indiantown that came out of the ground in just over a year.
Supporters said it will be a game changer.
It was partly the vision of philanthropists Charles and Sandy Johnston, who donated $10 million.
Johnston, who has donated over the years to Inlet Grove High in Palm Beach County, and the Hope Rural School in Indiantown, said it was important to help Indiantown students chart their own futures.
"As we're able to get educated, talented people," Johnston said, "more and more companies will want to settle here."
Indiantown High School will be operated by Indian River State College.
The college president said this is a commitment IRSC is making to the broader Indiantown community, where students can also achieve certifications in areas like medical sciences and construction technologies.
"Wherever your God given abilities take you, whether it's traditional college pathway or vocational trades," Dr. Timothy Moore said, "or advanced trades, manufacturing sector, you can get your start right here in this school."
Right now, 75 ninth and 10th graders will make up the first class at Indiantown High School. Once all four grades are here, student capacity will be capped at 400.
For Martin County School Board Chairwoman Marsha Powers, it's a dream come true.
She went to elementary and middle school in Indiantown. Back then, like students have done for years, she took buses across the county to its other high schools.
"It's a new opportunity for Indiantown and the surrounding communities that would never have been possible without the support of the community," Powers said.
Students interested in attending must register.
For more information about Indiantown High School, click here.
Scripps Only Content 2023