New affordable housing complex completed in West Palm Beach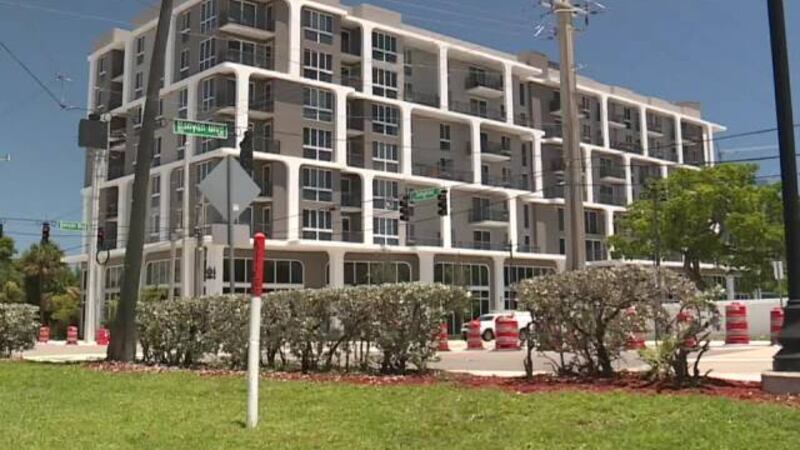 Published: Aug. 7, 2023 at 4:56 PM EDT
Officials in West Palm Beach announced Monday the completion of the first new affordable downtown apartments in the last 30 years.
The $33 million project, called Flagler Station, is located at 991 Banyan Blvd., a block away from the Florida TriRail/Amtrak station.
The apartments are reserved for residents earning no more than 30%, 60%, 70% or 80% of the area's median income. The rents for the 94 apartments range from $393 to $1,689.
Flagler Station is an eight-story, high-rise property with a mix of one-, two- and three-bedroom apartments. Community amenities include a 3,200-square-foot, double-high multi-purpose clubroom, a computer/business center, a rooftop pool, a state-of-the-art fitness center and on-site parking.
Mayor Keith A. James said the new homes contribute to enhancing the fabric of the downtown community.
"We extend our heartfelt gratitude to Housing Trust Group for their unwavering commitment to bringing affordable housing to the City of West Palm Beach. This partnership marks a significant milestone in our journey towards a more inclusive and vibrant community. We eagerly anticipate the positive impact this development will have on the City and its residents," James said.
Named after Henry Flagler, the 19th-century industrialist who built the Florida East Coast Railway, Flagler Station's site includes some of the original FECR tracks, which have been incorporated into the development as part of a linear park featuring original artwork and murals.
Financing for the project included $23.27 million in 9% low-income housing tax credits through the Florida Housing Finance Corporation that was purchased by CREA; a $20.3 million construction loan from KeyBank; an $8.93 permanent loan through Freddie Mac; a $75,000 city of West Palm Beach loan; a $314,446 Palm Beach County grant and a $550,000 HOME loan from Palm Beach County.
A grand-opening ceremony was held Monday which featured James, state Rep. Jervonte Edmonds, D-West Palm Beach, West Palm Beach Commissioner Christy Fox and others who helped make the project possible.
Officials hope the new complex will house working professionals, taking away the crippling bite taken out of their paychecks by rent.
Keyanna Harris is a Palm Beach County probation officer and single mother of two who pays $1,300 a month in rent at Flagler Station.
"It's kinda tough," Harris said about the rental market. "If I were to look anywhere else, I would have been paying 21, 22, 23 (hundred dollars per month.)"
Developer Matthew Rieger of HTG Properties would like to build more affordable housing complexes like Flagler Station because more are badly needed in the area.
"This is something on a scope and a scale that only federal resources will be sufficient to incentivize developers to keep rents down," Rieger said.
The Housing Leadership Council of Palm Beach County estimates the county will need at least 20,000 affordable units over the next decade, which translates to roughly 212 projects similar to Flagler Station.
Riege added that those who want to develop affordable housing are fighting inflation, supply chain shortages, a construction process that takes at least two to three years and a housing market where luxury condos remain lucrative for builders.
Harris' $ 1,300-a-month apartment at Flagler Station allows her to save some of her income.
"I'd be living paycheck to paycheck," Harris said. "It'd be tough, so I'm so thankful I was able to get in here."
Rieger said that next to Miami-Dade County, Palm Beach County has the most critical need for affordable housing and Flagler Station represents a small victory in a long battle.
Scripps Only Content 2023