With school starting this week, crossing guards urge drivers to be alert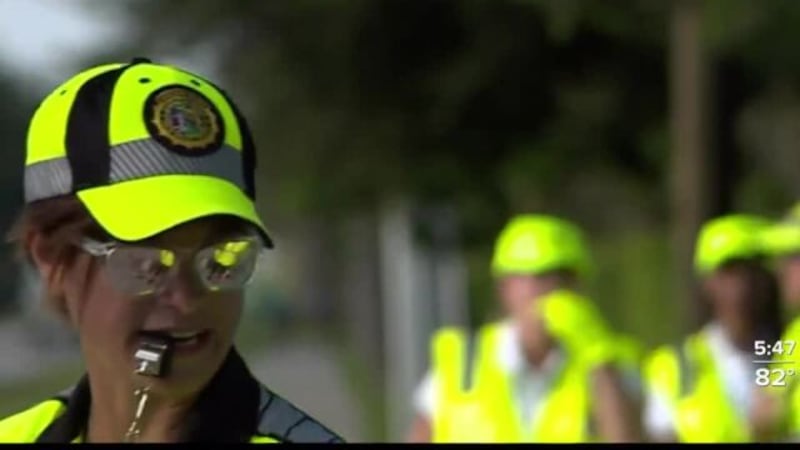 Published: Aug. 7, 2023 at 6:20 AM EDT
Crossing guards are the unsung heroes keeping our kids safe at the busiest intersections on their way to and from school.
The head of the Palm Beach County Sheriff's Office crossing guard unit has a message for drivers as kids head back to school on Thursday..
"I just want to remind the drivers of Palm Beach County School opens on August 10. Please, please plan your day accordingly. There's going to be a lot more traffic on the road. You've had a nice little break for the last couple of months. Traffic's been a lot lighter in the morning. There's going to be a lot more traffic. There's going to be a lot more children on the road. So please, add some extra time," said PBSO Sgt. Richard Frankiewicz.
The guards have an important responsibility.
"I always say every year that it's our job every morning and every night, we wanted to return that child back to their parents the same way they left. That's our goal every single day," Frankiewicz said. "That they're always looking at the traffic. They're looking for that driver that may or may not be doing something that they are supposed to be doing. One that's not paying attention, the one that's on the phone, the one that's texting."
But what does it take to become a crossing guard? WPTV's T.A. Walker went to PBSO field training to see if he had what it takes to become a guard.
PBSO crossing guard field training
PBSO is responsible for the county's crossing guards and they said they are experiencing a shortage. The agency currently has around 50 vacancies.
The part-time jobs start at $15.80/hour and include pension benefits and free use of health clinics which includes doctor, medical, and prescription needs.
Scripps Only Content 2023