Treasure Coast crossing guards advise parents, kids to be alert and attentive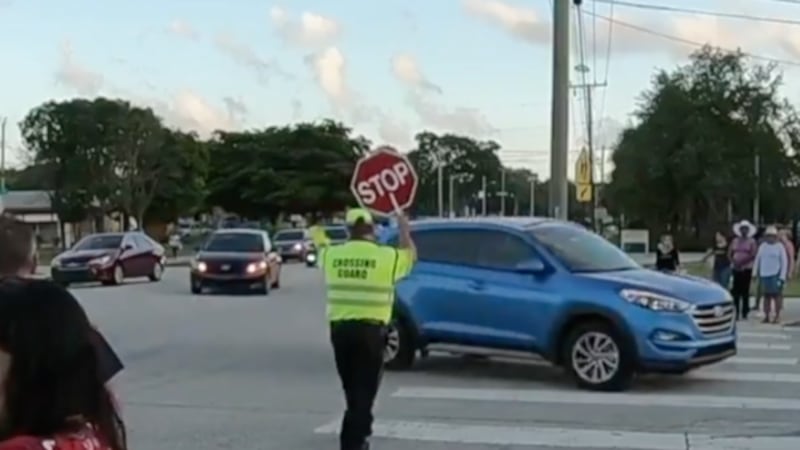 Published: Aug. 8, 2023 at 5:06 AM EDT
Tens of thousands of students are about to cross busy intersections when school starts on Thursday in South Florida.
Every year, tragedy strikes when some of those students are involved in an accident walking or biking to school.
WFLX anchor Mike Trim spoke with two longtime crossing guards in Port St. Lucie.
Herb Coyle and Teresa Gasparre work as crossing guards at Floresta Elementary in Port St. Lucie.
Both have been crossing guards for 30 years a piece.
Coyle said there are new trends parents and students should be aware of this school year.
"More traffic now, a lot more busyness, a lot more people. A lot of the cars aren't paying attention where they're going," he said. "The kids just want to get across, so you got to stop them."
Gasparre pointed to the ongoing trend of portable electronics leading to distractions.
"They're all on their phones and they don't watch what they're doing, so you got to stop them every way," Gasparre. "They got earbuds in, you got to ask them to take it out, because they can't hear you."
Both recommend students walking up to intersections, and through them, should keep their eyes up and earbuds out.
Coyle and Gasparre said parents can be problematic when following the rules as well.
SPECIAL COVERAGE:BACK TO SCHOOL
"They need to stay in the crosswalks, and they need to think before they cross with a kid or without a kid.," Coyle said. "A lot of times the kids know more about what they're doing than the parents."
Gasparre agreed.
"They'll just cross wherever they are if they come down to you or not," she said. "They don't want to wait for you to stop the cars. They just want to go."
It also comes down to parents' driving styles.
This duo said too many are distracted and, on their phones, while driving through school zones.
Both hope for a great, safe school year.
At this point, Coyle and Gasparre have seen two generations of students crossing intersections.
"I've seen kids that I've crossed in elementary school coming in with their kids of their own now," Coyle said. "I think it's just so cool when I see that."
Scripps Only Content 2023