Homegrown famous YouTuber showcases South Florida wildlife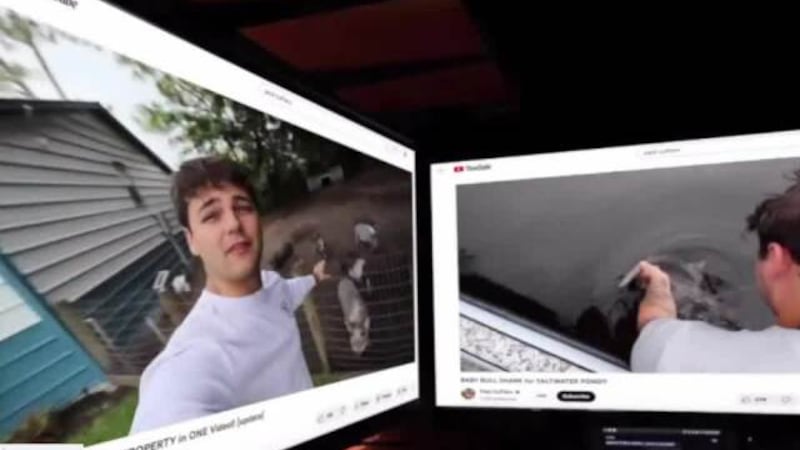 Published: Aug. 17, 2023 at 6:50 AM EDT
Famous YouTuber Paul Cuffaro is a Jupiter native that provides a window for South Florida wildlife to the rest of the world.
Cuffaro's videos show him and his friends at several locations in Palm Beach County, filming sea life and animals, some of which he makes pets that many become connected with from his social media pages.
Cuffaro has amassed more than four million followers and subscribers to his YouTube channel and TikTok profile.
From his farm in Jupiter Farms, Cuffaro talked with WPTV anchor Mike Trim about his rise to fame, which started in ninth grade.
Mike asked, "You were at your home in Jupiter Heights and talk me through what happened."
Cuffaro said, "I started digging ponds in the backyard, my parents finally let me dig a hole. That led to me just making a lot of videos on YouTube. For fun. Eventually one popped, got like three million views and paid me like 400 bucks and I said, Mom, I could do this for a living."
The Palm Beach County coastline and his own backyard is where Cuffaro shoots most of his content.
"We can all agree, anyone that's here at least, it's one of a kind, you know it's a beautiful location, there's a lot to film. Things that people don't see often. So if you're watching from a different country, different state, even, you're looking at this like, what the heck, where does this kid live?" said Cuffaro.
Every animal, that Cuffaro brings home to his salt and fresh water tanks has a name.
Showing us some, Cuffaoro said, "This is Cornelius, a massive, there he goes, American bullfrog."
Those names build connections with his followers.
"There's many different reasons why people wouldn't be able to own all these farm animals or even the fish tanks inside. So they watch through my videos and they believe and they think, you know, these are my animals too and that's true. They get to watch every bit of the way, they know the names. They know what they eat, what their favorite food is, there's so many things," Cuffaro said.
Cuffaro also knows a lot of kids watching his videos would like to be youtubers as well.
He says it is possible.
"Consistency is key. As long as you can be consistent make content, keep on grinding, not even getting views, the first year you could get none, I didn't make a dollar for a year and a half, and eventually, one pops off and that's all it takes," Cuffaro said.
Scripps Only Content 2023