Palm Beach County thrifter finds luxury deals for pennies on the dollar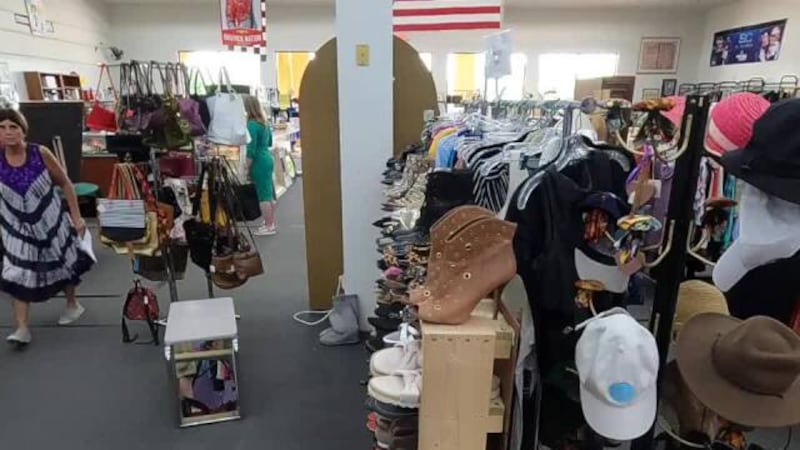 Published: Aug. 17, 2023 at 2:21 PM EDT
Ambie Hay has more than 175,000 followers on her Instagram account "Palm Beach Thrifters," where she shares photos and videos of thrift shop finds from Miami to Vero Beach.
In the racks of Our Sister's Place thrift store in Tequesta, Ambie Hay and her niece, Sarah Hay, are on the hunt together. Ambie Hay has taught her neice how to search for quality pieces for years.
"I have been a thrifter my whole life," she said. "I actually started picking back in the 80s. I had a shop in Nantucket."
Sarah Hay said the lessons have paid off and her whole wardrobe consists of thrifted pieces.
"She basically got me into the whole world of thrift fashion," she said.
Ambie Hay is adept at regularly finding extreme deals and discounts at thrift stores and uses her lifelong, practiced eye to find pieces on the rack.
"This is cashmere, for $3. This would be $200 retail," she said.
Ambie Hay's clients have her search for specific clothing and furniture pieces that can't be found brand new. She believes South Florida has some of the best thrift shop opportunities in the world due to the wealthy surrounding communities, and even more if you keep an open mind.
"It's fabulous to find a Tory Burch or Chanel or Versace, or Free People and Calypso St. Bart, but you can also look just as pretty with things that have the look," she said.
On her Instagram account, Ambie's following has ballooned with loyal fans and shoppers, many who send messages from around the world, wishing they could access the stores more easily. Others delight in the pieces they've picked up from her posts.
"I have had people message me over and over, thank you so much, I've furnished half our home with the items that you've posted," she said.
Part of Ambie Hay's joy in sharing the posts is how she can showcase the charitable component of the stores she's visiting. Our Sister's Place, for example, helps people who are victims of domestic violence.
Monica Hardway is a member who serves on the board of directors for the charity. She said one in four women, and one in nine men, will be the victim of domestic violence. Regular donations to and purchases from the store are essential to its mission.
"We get fantastic donations, we have wonderful volunteers, so what this allows us to do, is take these resources, turn it into funds," Hardway said. "So, we can offer emergency housing, food, resources, putting people into connections with where they might need to go."
Ambie Hay recommends other thrifters keep an open mind as they start the hunt.
"Thrifting is just, a no brainer. You're recycling, you're saving money, you're giving back with every purchase," she said, "because most thrift shops are affiliated with a charity. And you're having fun at the same time, it's like a total a win-win."
Scripps Only Content 2023