More Florida politicians appeal to NCAA on behalf of FSU football player
Bipartisan congressional delegation asks NCAA president to reconsider denial of hardship waiver for defensive tackle who transferred to be close to sick mom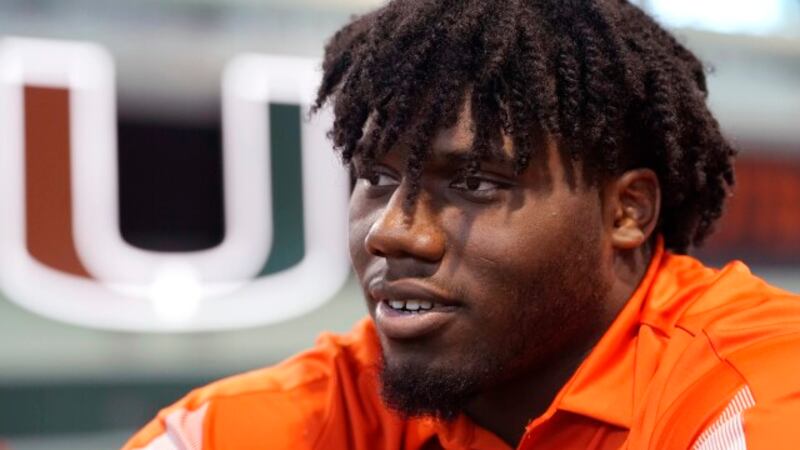 Published: Aug. 18, 2023 at 11:16 AM EDT
More Florida politicians are making the case to the NCAA for a Florida State football player whose hardship request to play immediately was recently denied.
Defensive tackle Darrell Jackson Jr. began his college career at Maryland and played for Miami last season before transferring to Florida State to be closer to his sick mother, who lives in Quincy, about 25 miles northwest of Tallahassee.
The NCAA allows student-athletes to transfer once without having to sit out a year. Because he's transferred twice, Jackson unsuccessfully petitioned the NCAA to play this fall, citing his family's medical hardship.
A dozen members of Florida's congressional delegation sent a letter to NCAA President Charlie Baker on Thursday asking the governing body of collegiate athletics to reverse its decision.
The bipartisan group who signed the letter were U.S. Reps. Michael Waltz, Neal Dunn, Maria Salazar, Carlos Gimenez, Cory Mills, Laurel Lee, Kat Cammack, Debbie Wasserman Schultz, Daniel Webster, Darren Soto, Jared Moskowitz and Byron Donalds.
Their appeal comes after similar requests by U.S. Sen. Marco Rubio, R-Fla., and Florida Chief Financial Officer Jimmy Patronis, who is a Florida State graduate.
"We express concern that during a time of unprecedented change in college sports that the organization charged with the well being and lifelong success of college athletes would provide a ruling that is self-evidently contradictory to its own mission statement," the letter stated. "We echo Senator Marco Rubio's recent letter that this decision sends the wrong message to our student athletes who choose to put family first when dealing with the health crisis of a loved one. We therefore urge that you reconsider Darrell's hardship waiver, and we respectfully look forward to your prompt response."
One day earlier, Patronis wrote Baker to express his "sincere disappointment" in the NCAA's decision.
"I've got to admit – it got me emotional," he wrote. "Afterall, Darrell put his family first and transferred to FSU to be closer to his ailing mother. Meanwhile, the NCAA blocks his ability to play the game he loves while caring for his family? It doesn't make any sense."
No. 8 Florida State opens its season against No. 5 LSU on Sept. 3 in Orlando.
Scripps Only Content 2023