Publix has stopped selling hurricane-themed cakes
Grocer says cakes 'make light of a natural disaster'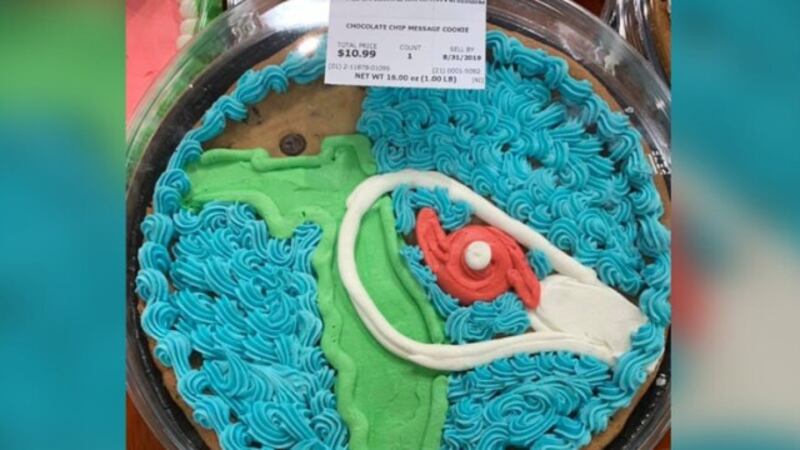 Published: Aug. 23, 2023 at 11:15 AM EDT
A sweet treat that many Publix customers have become accustomed to during hurricane season is no longer available.
The Florida-based grocer posted on its website that they don't "produce bakery cakes that would make light of a natural disaster."
The company said they have sent communications to their stores reminding them of the policy.
Pictures of the cakes often permeate social media as a hurricane or tropical storm approaches Florida.
Customer Jessica Sullivan posted a picture of a hurricane-themed cookie cake as Hurricane Dorian near the Florida coast in 2019.
The cakes often have pictures of a hurricane with messages that say "Go Away!" or "Leave Florida Alone."
Below is the full statement posted on Publix's website related to the production of hurricane-themed cakes:
"We appreciate your reaching out regarding decorated cakes from our bakery departments. Our associates make every effort to support our customers during weather events. Often times, this includes finding ways to delight them with their favorite Publix items as they prepare for uncertainty. For these requests in particular, it is our company policy to not produce bakery cakes that would make light of a natural disaster. We have sent communications to our stores reminding them of our policy. We regret if a store has not followed policy, and we are working to rectify the situation.

Our priority remains taking care of our customers, associates and communities as we prepare and respond to Hurricane Ian."

It has been a relatively quiet hurricane season for Florida so far. However, the peak months of September and October typically bring more tropical activity to the Sunshine State.
Scripps Only Content 2023