2023 college football preview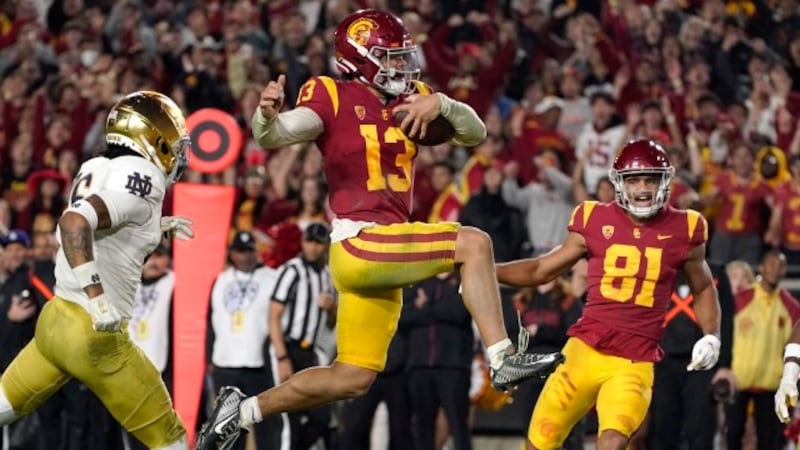 Published: Aug. 26, 2023 at 11:15 AM EDT
With the start of the college football season set to kick off Saturday, WFLX.com takes a look at the most anticipated games of 2023.
Aug. 31 Florida at No. 14 Utah
Florida will make a rare Thursday night appearance out west to take on the defending Pacific 12 Conference champions. Former Wisconsin quarterback Graham Mertz is expected to open the 2023 season as the starter for the Gators after losing first-round draft pick Anthony Richardson. Mertz was a three-year starter at Wisconsin, where he threw for 5,399 yards and 38 touchdowns before transferring to Florida earlier this year. On the opposite sideline, Utah quarterback Cam Rising is back after accounting for more than 6,500 yards of total offense with 58 touchdowns. He threw for 3,034 yards and 26 touchdowns while rushing for 532 yards and six scores during the 2022 season. But Utah fans are likely to remember Rising's final play when the Utes traveled to Florida last season. On second-and-goal from the 6-yard line, Rising was intercepted in the end zone by Gators linebacker Amari Burney, sealing Florida's 29-26 victory. The Gators will play their first Thursday game since 1992.
Sept. 2
Colorado at No. 17 Texas Christian
It was an offseason to remember for Colorado. For the Buffaloes, the offseason really started in December, when Colorado hired Deion Sanders for his first stint as a head coach on college football's biggest stage. Sanders was 27-6 in three seasons at Jackson State, where he helped shine a spotlight on historically Black institutions at the Football Championship Subdivision level. But Sanders made it clear he had sights set on something greater. Enter Colorado. First, the Hall of Fame cornerback took his son – quarterback Shedeur Sanders – with him and proclaimed him the starting quarterback. He also lured cornerback Travis Hunter – once the nation's No. 1 recruit who spurned Florida State for Sanders and Jackson State – to the Boulder State. Sanders then made headlines for the mass exodus that ensued after Colorado's spring game. A total of 47 players have entered the transfer portal since the window opened in April. That leaves Sanders with just 10 returning scholarship players from last season's Colorado team, which went 1-11. It's a big gamble for an already bad team, but Sanders has the backing of athletic director Rick George. Will it lead to an immediate turnout? That'll be a tough task with Colorado's opening game at Texas Christian. All TCU did a season ago is knock off second-ranked Michigan in the College Football Playoff semifinal at the Fiesta Bowl and face Georgia for the national championship. Although the Horned Frogs dropped two of their final three games and were woefully outmatched in their 65-7 loss to Georgia, they still finished No. 2 in the country and proved to be among the most dominant teams in the country.
No. 12 Tennessee vs. Virginia
This neutral-site meeting in Nashville will serve as the first game for Virginia since three players were killed in a campus shooting last November. The deaths of wide receivers Lavel Davis Jr. and Devin Chandler and linebacker D'Sean Perry led to the cancellation of the final two games of the 2022 season. The shooting also left running back Mike Hollins wounded. Getting back to football could be a challenge for the Cavaliers, who struggled to win in their first year under head coach Tony Elliott – especially when the opponent is Tennessee. The Volunteers will be fresh off their 31-14 Orange Bowl victory over Clemson to cap an 11-win season. Backup quarterback Joe Milton was thrust into action late last season after Hendon Hooker went down with an injury. Now that Hooker has moved on to the NFL, Milton enters the season as the starter. Milton completed 19 of 28 passes for 251 yards and three touchdowns on his way to winning Orange Bowl MVP honors. As for Virginia, there is a bit of optimism. Hollins returned to practice in March and scored a touchdown in Virginia's spring game.
No. 21 North Carolina vs. South Carolina
This border rivalry returns to Charlotte, North Carolina, with a decidedly offensive feel to it. That's because both teams produced plenty of it in 2022. Led by redshirt sophomore quarterback Drake Maye, North Carolina ranked 25th nationally in total offense and 11th in passing offense. Maye was the Atlantic Coast Conference player of the year after throwing for 38 touchdowns and 4,321 yards. Meanwhile, South Carolina seemed to find its stride in late November, first embarrassing then-No. 5 Tennessee 63-38 in their Southeastern Conference finale and then snapping a seven-game losing streak to Clemson with a 31-30 victory on the seventh-ranked Tigers' home field. So, what's different about 2023? For the Tar Heels, Maye won't have his top two targets from last season after receivers Josh Downs and Antonie Green moved on to the NFL. South Carolina and quarterback Spencer Rattler will have to adjust to a new offensive coordinator after Marcus Satterfield took the same job at Nebraska. Head coach Shane Beamer brought in Dowell Loggains, who spent the past two seasons as tight ends coach at Arkansas. Before that, Loggains spent his coaching career as an NFL assistant with five different teams as either a quarterbacks coach or offensive coordinator. The Gamecocks are 2-1 against North Carolina at Bank of America Stadium, including a 38-21 win when the teams last met in the 2021 Duke's Mayo Bowl.
Sept. 3
No. 5 Louisiana State vs. No. 8 Florida State
The setting shifts to Orlando after last year's epic finish in New Orleans. Shyheim Brown will forever be remembered by Florida State fans for blocking LSU kicker Damian Ramos' PAT to preserve a 24-23 victory. Despite the final score, the Seminoles were in control for most of the game, leading 17-3 in the third quarter and 24-10 midway through the fourth quarter. Then Jayden Daniels took over. The Louisiana State quarterback threw two touchdown passes in the final 4:07 – including a 2-yard pass to Jaray Jenkins as time expired – to bring the Tigers back. He also led the team in rushing with 114 yards on 16 carries. The Tigers surpassed expectations in their first year under head coach Brian Kelly, beating Alabama and reaching the Southeastern Conference Championship game. Daniels, who was a big part of the reason why, returns for his senior season. But so does just about every key contributor from Florida State's first 10-win season since 2016. The Seminoles finished last season on a six-game winning streak, led by quarterback Jordan Travis and defensive end Jared Verse. Travis returns for a sixth season of college eligibility after starting every game for the Seminoles for the first time since transferring to Florida State in 2019. The West Palm Beach native has already set school records by a quarterback with 1,734 career rushing yards and 24 career rushing touchdowns. That's in addition to his 3,214 passing yards and 24 touchdowns with just five interceptions in 2022. Verse was equally impressive with 16.5 tackles for loss and nine sacks. FSU owns an 8-2 overall record against LSU and hasn't lost to the Tigers since 1982.
Sept. 9
No. 11 Texas at No. 4 Alabama
Consider this an early SEC preview. Texas is still a year away from joining the conference, but there's sure to be an SEC feel about this game when the Longhorns come to Tuscaloosa, Alabama. Quinn Ewers will get another crack at the starting quarterback job for Texas, but if he struggles, top-rated recruit Arch Manning (whose uncles are retired NFL stars Peyton and Eli Manning) will be waiting for his opportunity. Texas almost took care of business against Alabama last season when kicker Bert Auburn converted all four of his field-goal attempts, including a 49-yard kick with 1:39 remaining. Alas, it wasn't to be for the Longhorns. A 33-yard game-winning field goal by Alabama kicker Will Reichard with 10 seconds left lifted Alabama to a 20-19 victory. Auburn and Reichard will both get to display their footwork again. The biggest question mark for Alabama is at quarterback. Notre Dame transfer Tyler Buchner joined the Crimson Tide after the spring game, so fans haven't had a chance to see what he's capable of yet, but he began last year as Notre Dame's starter before suffering a shoulder injury in early September that forced him to miss the remainder of the regular season. Buchner returned for the Gator Bowl, throwing three touchdown passes and running for two more scores in a 45-38 victory over South Carolina. He'll be reunited with former offensive coordinator and quarterbacks coach Tommy Rees, who now serves in the same capacity at Alabama.
No. 23 Texas A&M at Miami
Both seasons didn't go as planned for these teams in 2022. Texas A&M was thought to have been a legitimate playoff contender a season ago. Instead, the Aggies struggled at the quarterback position and finished 5-7 – their first losing season since 2009. Haynes King, who entered last season as the starter, hit the transfer portal and head coach Jimbo Fisher hit the reset button, hiring former Arkansas and Louisville head coach Bobby Petrino to take over play-calling duties after the Aggies finished 100th nationally in scoring. Conner Weigman, a five-star signee from last year's recruiting class, and veteran Max Johnson will compete for the starting role in 2023. Meanwhile, Miami flopped to the same record as Texas A&M in 2022. After last year's debacle, head coach Mario Cristobal shook up his staff, resulting in seven new assistants, including both coordinators. Tyler Van Dyke will get another crack at quarterback for the Hurricanes, who need him to perform more like he did in 2021. The Aggies and Fisher had the upper hand in last year's meeting at Kyle Field, winning 17-9. Now Miami will get to host Texas A&M. But here's one statistic to consider: No Fisher-led team has ever lost a game at Hard Rock Stadium.
Nebraska at Colorado
This game used to be appointment television in the old Big Eight Conference days. It could be that again this year with two new standout hires leading the Cornhuskers and Bufffaloes, respectively. It'd be tough not to know that Sanders was tapped for a Rocky Mountain revival, which may have overshadowed arguably the country's second-biggest hire – Matt Rhule to Nebraska. Fired by the NFL's Carolina Panthers last season, Rhule returns to the college game, where he made his mark turning around programs like Temple and Baylor. That's his task at Nebraska, which parted ways with alumnus Scott Frost last September. Rhule will have a new quarterback in Jeff Sims, who transferred from Georgia Tech and sent 2022 starter Casey Thompson packing. This game may not matter much when it comes to bowl bids or playoff spots, but who cares? No matter the outcome, it'll be fun seeing Sanders and Rhule on opposite sidelines.
Sept. 16
No. 17 Texas Christian at Houston
This will be the first-ever Big 12 Conference game for Houston, which will host a familiar in-state foe from their old Southwest Conference days. The teams met annually from 1976-95. When the conference broke up, neither team got to join the Big 12 party. TCU finally got the invite after the departures of Colorado, Missouri, Nebraska and Texas A&M. Now, Houston joins three other schools – Brigham Young, Central Florida and Cincinnati – to make up the new, 14-team (if only for this season) Big 12. A move to the Big 12 isn't the only thing new to Houston, which is also breaking in a new quarterback. Donovan Smith succeeds Clayton Tune, who passed for 11,996 career yards as a four-year starter. Smith brings Big 12 experience after throwing for nearly 2,700 yards and 19 touchdowns at Texas Tech. TCU must also replace quarterback Max Duggan. Replacing him will be Chandler Morris, who started last year's season opener before an injury allowed Duggan to supplant him. Fifth-year Houston head coach Dana Holgorsen has successfully navigated a program changing conferences in the past (like he did at West Virginia), so he should have his team ready. The Cougars haven't beaten TCU since 1992.
Sept. 23
No. 8 Florida State at No. 9 Clemson
It's crazy to think that Clemson has won seven straight games in this rivalry that often determined the ACC Atlantic Division. From 2009-19, the winner of this game went on to win the division – and, ultimately, the ACC crown. Well, the Seminoles won't have to worry about that now that the ACC has done away with divisions. Instead, the top two teams in the final ACC standings will play for the conference championship. Could this be the first of two Clemson-Florida State games this season? The Seminoles have come close each of the past two years, losing by 10 on their last trip to Clemson in 2021 and falling 34-28 at home last season in a game that wasn't quite as close as the score indicated. The Tigers had a commanding 34-14 lead before Travis led Florida State on a pair of fourth-quarter touchdowns to give the Seminoles a fighting chance, but Clemson recovered a late onside kick to preserve the win. For the first time in a decade, Florida State might just be the better team. The Seminoles certainly didn't get any worse acquiring Michigan State receiver Keon Coleman via the transfer portal. Coleman led the Spartans with 58 catches for 798 yards and seven touchdowns last season. He'll complement rangy returning starter Johnny Wilson (43 receptions for 897 yards and five touchdowns) and emerging star Kentron Poitier (who hauled in a 25-yard touchdown pass against Clemson last season). The Seminoles haven't beaten Clemson since hanging on for a 23-17 overtime win in 2014. Their last win at "Death Valley" was during the 2013 national championship season.
No. 3 Ohio State at No. 13 Notre Dame
Ohio State will make its first trip to Notre Dame Stadium since 1996. For a half last September, it seemed as though Notre Dame could run the Buckeyes out of Ohio Stadium. Then came the second half. The Buckeyes overcame a 10-7 halftime deficit and shut out the Fighting Irish in the second half on their way to a 21-10 victory. Second-year Notre Dame head coach Marcus Freeman is a former Buckeyes linebacker who would no sooner endear himself to the Irish faithful than by beating his alma mater. He shook off a 0-2 start last season to lead the Irish to wins in nine of their final 11 games, including a 45-38 victory against No. 19 South Carolina in the Gator Bowl. Both teams will open the season with new quarterbacks. Notre Dame has a decided advantage with Wake Forest transfer Sam Hartman, who arrives with 12,967 career passing yards and 110 career touchdown passes. It remains an open competition at Ohio State between junior Kyle McCord and sophomore Devin Brown. McCord appeared in seven games off the bench last season, completing 16 of 20 pass attempts for 190 yards and a touchdown. Brown was limited to 15 plays in two games in 2022.
Central Florida at No. 16 Kansas State
Of all the Big 12 newcomers, Central Florida is the most poised to compete for a championship right away. So, it's almost fitting that UCF's first Big 12 game will come against the defending conference champions. What better way to gauge how close – or far away – the Knights are from challenging the rest of the league? UCF is the only of the four newbies to welcome back last season's starting quarterback. John Rhys Plumlee led all Football Bowl Subdivision quarterbacks in rushing last season (861 yards and 11 touchdowns) while also throwing for 2,586 yards and 14 touchdowns. Meanwhile, Kansas State quarterback Will Howard returns for his senior season after throwing for 1,633 yards with 15 touchdowns and just four interceptions in seven games. The Wildcats will also have an impressive ground game led by DJ Giddens, who ran for 518 yards and six touchdowns as a backup to now-departed Deuce Vaughn last season. Treshaun Ward, who was Florida State's second-leading rusher last season with 628 yards and seven touchdowns on 95 carries, is also expected to have a significant role.
Sept. 30
Cincinnati at Brigham Young
After a long journey, Brigham Young and Cincinnati will finally join the ranks of the Power 5 schools this season. BYU's inaugural Big 12 home game will be against Cincinnati, playing its first Big 12 road game. Both teams will have already played a Big 12 opponent headed into this game. The Bearcats will have hosted Oklahoma a week prior, while BYU will have returned from a trip to (a much improved) Kansas. Cincinnati graduated to Power 5 status just two seasons removed from becoming the first Group of 5 school to make the College Football Playoff. The Bearcats now have a new leader in Scott Satterfield, who has Power 5 experience after spending the last four seasons at Louisville. BYU once held the distinction of being the last Group of 5 team to win a national championship during the 1984 season. The Cougars could be a challenge for Cincinnati, especially with journeyman Kedon Slovis at quarterback. Slovis has started 37 games in his career between Southern California and Pittsburgh, completing 836 of his 1,268 passes for 9,973 yards with 68 touchdowns and 33 interceptions. His career passing yards rank No. 13 among active FBS quarterbacks. Satterfield went to the transfer portal to lure quarterback Emory Jones to Cincinnati. Jones passed for 2,734 yards at Florida in 2021 and started seven games at Arizona State last season.
Oct. 7
No. 11 Texas vs. No. 20 Oklahoma
The "Red River Rivalry" returns to Dallas for the final time with Texas and Oklahoma as Big 12 members. The Longhorns embarrassed Oklahoma 49-0 last year, handing the Sooners their most lopsided shutout loss ever. Oklahoma starting quarterback Dillon Gabriel missed last year's game with a concussion, so he'll seek his first and last shot against Texas at the Cotton Bowl. Although Oklahoma finished with its first losing season since 1998, Gabriel still performed well for the Sooners, throwing for 3,168 yards and 25 touchdowns in his first year after transferring from UCF. Last season's game was the first time neither Red River rival was ranked since 1998. Barring a poor start by both teams, that shouldn't be the case in 2023. Can the Longhorns or Sooners exit the Big 12 as conference champions? That's the goal for the teams that have combined to win 16 Big 12 titles (13 for Oklahoma and three for Texas) since its inception in 1996.
Oct. 12
West Virginia at Houston
Dana Holgorsen faces his former team for the first time since leaving West Virginia for Houston in 2019. Holgorsen knows the struggle of being a newcomer in the Big 12. It took his Mountaineers a full three seasons in the Big 12 to finish with a winning record in conference play. After a 33-30 record in West Virginia's first seven seasons in the Big 12, Holgorsen resigned to return to the school where he had once served as offensive coordinator. He was replaced by Neal Brown, whose job could be in jeopardy if the Mountaineers don't turn the corner soon. In four years under Brown, West Virginia has failed to win more than six games in a single season. Patience is wearing on West Virginia fans. Meanwhile, Holgorsen received a contract extension last year carrying him through 2027, but he's got to stay competitive in the Big 12 to extend his welcome.
Oct. 14
No. 6 Southern California at No. 13 Notre Dame
It's been more than a decade since Southern California defeated the Irish at hallowed Notre Dame Stadium. USC fans must go back all the way to 2011 when the Matt Barkley-led Trojans took a 17-0 first-half lead on the way to a 31-17 victory. The Trojans snapped a four-game losing streak in the series to take home the Jeweled Shillelagh after last season's 38-27 victory. USC is once again led by reigning Heisman Memorial Trophy winner Caleb Williams at quarterback. Williams passed for 4,537 yards and a nation-best 42 touchdowns a season ago. He also had 382 rushing yards on 109 attempts with 10 touchdowns, including three against Notre Dame.
Oct. 21
No. 7 Penn State at No. 3 Ohio State
Penn State head coach James Franklin set the expectations for the program by winning the Big Ten in his third season on campus. The Nittany Lions have gone on to finish with 11 wins three times since, but Ohio State has proven to be a roadblock since that championship season in 2016. Could this be the year that changes? Former five-star recruit Drew Allar is the heir apparent at quarterback. He appeared in 10 games as a backup last season, completing 35-of-60 passes for 344 yards and four touchdowns. Penn State has struggled to develop depth at receiver in recent years, which is why Franklin hired position coach Marques Hagans away from Virginia. The Nittany Lions have dropped six straight in the series, last beating the Buckeyes in 2016, and haven't won at "the Horseshoe" since 2011.
No. 14 Utah at No. 6 Southern California
Utah beat USC twice last season on their way to winning the Pac-12. The Utes edged out USC 43-42 at home in the regular-season meeting and then steamrolled the Trojans 47-24 in the Pac-12 title game, costing USC a spot in the College Football Playoff. The Utes are trying to become the first Pac-12 champ to three-peat since the conference expanded from 10 teams in 2011. As the future of the Pac-12 (down to four schools in 2024) remains in jeopardy, one thing is certain. Neither Utah or USC will be in the Pac-12 after this season, with the Trojans headed to the Big Ten and the Utes moving on to the Big 12.
No. 17 Texas Christian at No. 16 Kansas State
Consider this the rubber game. Although TCU got much of the glory last season, it was Kansas State that won the Big 12 crown in 2022. This will be a rematch of last season's Big 12 title game, which the Wildcats won 31-28. However, TCU took down Kansas State 38-28 in last October's regular-season meeting. Kansas State's reward for winning the Big 12 was a trip to the Sugar Bowl. As great as both teams were a year ago, the Wildcats could be even better in 2023.
Oct. 28
No. 1 Georgia vs. Florida
Georgia is trying to become the first team in the modern era to win three consecutive national championships. Head coach Kirby Smart has assembled a roster equipped to do just that. The Bulldogs return 14 starters from last season, even after losing 10 players to the NFL Draft. But the biggest hole is at quarterback. Two-time national champion Stetson Bennett is now with the Los Angeles Rams, so redshirt junior Carson Beck gets the nod after completing 26 of 35 passes for 310 yards and four touchdowns in mop-up duty last season. The Bulldogs also have a new but familiar name at offensive coordinator. Former Georgia quarterback Mike Bobo is back after Todd Monken left for the same role with the NFL's Baltimore Ravens. Bobo spent eight seasons as offensive coordinator for the Bulldogs under Mark Richt. He returned to Georgia last season as an offensive analyst. Florida will lean heavily on its ground game with the running back duo of Montrell Johnson Jr. and Trevor Etienne, who combined for 1,560 rushing yards and 16 touchdowns in 2022. That should take some pressure off Mertz, who will be playing behind a mostly rebuilt offensive line. The Bulldogs have won two in a row and five of the last six meetings in Jacksonville, Florida.
Nov. 4
No. 5 Louisiana State at No. 4 Alabama
Kelly got a signature win against Alabama in his first year at LSU. By virtue of the 32-31 overtime victory, the Tigers won the SEC Western Division. Despite being sacked six times, Daniels ran for a 25-yard touchdown in overtime and then found tight end Mason Taylor for a do-or-die 2-point conversion. Can Kelly and the Tigers do it again, this time in Tuscaloosa? Divisions will be scrapped after this season, so LSU has one last chance to shut Alabama out of the SEC title game.
No. 10 Washington at No. 6 Southern California
The first year of the Kalen DeBoer era couldn't have gone better for Washington in 2022, with the Huskies winning 11 games and falling just two possessions shy of a perfect season, although USC wasn't on the schedule. The Huskies finished the season on a seven-game winning streak and enter this season dreaming of something more in what is likely to be the final year of the Pac-12. Michael Penix Jr. returns at quarterback after he set Washington's single-season passing record with 4,641 yards and finished as the nation's leader in passing yards per game (357). But the Huskies will have to overcome the loss of running back Cameron Davis, who suffered a season-ending injury during an August practice. This will be Washington's first trip to the Los Angeles Coliseum since a 17-12 win in 2015. No matter the outcome, the Huskies will be joining USC in the Big Ten next season.
No. 20 Oklahoma at Oklahoma State
This is conceivably the final meeting between these state rivals for the foreseeable future with Oklahoma leaving for the SEC in 2024. "Bedlam" has been played every year since 1910 and the Sooners have dominated the series, winning 87-19-7 over the past century. Oklahoma State won't get the chance to close the gap, but the Cowboys could send the Sooners off with a lasting sting. Brent Venables spent 13 seasons as defensive coordinator at Oklahoma under Bob Stoops, so Oklahoma's defensive woes must have been pretty jarring for the first-time head coach last season. The Sooners ranked 121st in the nation in total defense in 2022. Venables knows that must change in 2023. Still, the Sooners salvaged an otherwise forgettable season with a 28-13 victory against Oklahoma State last season. The Cowboys have had 17 consecutive winning seasons under Mike Gundy, who is the longest-tenured head coach in the Big 12. But a more challenging slate of conference games, particularly in the back half of the season, means another 2-5 finish probably won't cut it. After Spencer Sanders transferred for his final season of eligibility, Oklahoma State went to the transfer portal to land former Michigan and Texas Tech quarterback Alan Bowman. Bowman has only played in six games each of the past two seasons at Michigan, but he threw for more than 5,000 yards and 33 touchdowns for Texas Tech from 2018-20.
Purdue at No. 2 Michigan
This is a rematch of last season's Big Ten title game. The Wolverines pounded Purdue 43-22 in what was Jeff Brohm's swan song. The Boilermakers now have a new head coach in Ryan Walters, who spent the last two seasons as defensive coordinator at Illinois, and a new quarterback in Texas transfer Hudson Card, who has thrown for 1,523 yards, 11 touchdowns and two interceptions in his college career. Purdue will be defined by its offense in 2023, which is why Walters lured quarterbacks coach and offensive coordinator Graham Harrell away from West Virginia, where he served in the same capacity last season. Meanwhile, Jim Harbaugh will be back on the sideline with Michigan, which enters the season with national championship aspirations. After flirting with the NFL for each of the past two offseasons, Harbaugh reaffirmed his commitment to the Wolverines, perhaps because he's got some unfinished business in 2023. He'll have to serve a university-imposed three-game suspension stemming from an ongoing NCAA investigation, but Michigan shouldn't stumble with a favorable schedule that will position Harbaugh's team for success headed into a tough November slate.
Nov. 11
No. 2 Michigan at No. 7 Penn State
Speaking of Michigan, the Wolverines will have to get past Penn State at Beaver Stadium, where the Nittany Lions have won five of the last seven in this series. Michigan gashed the Penn State defense for 418 yards last season. Blake Corum and Donovan Edwards – among the nation's best running back duos – each scored twice in the 41-17 win. Corum is back after a season-ending injury last November, although he still finished with 1,463 yards and 18 touchdowns. These teams have met all but four times since Penn State's inaugural season in the Big Ten in 1993, with Michigan owning a 16-10 advantage.
Miami at No. 8 Florida State
The Seminoles made Miami look downright silly in last season's 45-3 whooping in South Florida. Now the game shifts back to Tallahassee, where Travis orchestrated an impressive 31-28 comeback victory in 2021. Travis is 2-0 against Miami as a starter and Florida State has a 12-7 edge in the rivalry since the Hurricanes joined the ACC in 2004.
Nov. 18
No. 21 North Carolina at No. 9 Clemson
This rematch of last season's ACC Championship game put the nation on notice about Clemson quarterback Cade Klubnik. The highly touted recruit spent most of last season as the backup before coming off the bench early in the ACC title game, passing for 279 yards and a touchdown in the 39-10 win over North Carolina. He stole the show from Maye, who threw two interceptions and was sacked four times in the game. The Tar Heels started with a 9-1 record before losing their final two regular-season games, the ACC title game and the Holiday Bowl against Oregon. The Tigers have won seven ACC championships in the past eight seasons.
Nov. 24
No. 18 Oregon State at No. 15 Oregon
Could the "Civil War" be over? Although the moniker was dropped in 2020, the state rivalry has continued to be played annually since 1902, but that appears to be in jeopardy after this year with the impending departure of Oregon to the Big Ten. Oregon State silenced the Ducks last year in Corvallis as the Beavers orchestrated a 21-point fourth-quarter comeback to win 38-34. The Beavers have won two of the last three meetings but haven't beaten the Ducks at Autzen Stadium since a 38-31 double-overtime win in 2007. Oregon State has upgraded the quarterback position with the arrival of Clemson transfer DJ Uiagalelei, giving the Beavers optimism that they can end the seven-game losing streak in Eugene.
Nov. 25
No. 3 Ohio State at No. 2 Michigan
Beat Ohio State. Check. Make the College Football Playoff. Check. Michigan has managed to do both each of the past two years, dethroning Ohio State to win back-to-back Big Ten titles and making consecutive College Football Playoff appearances. Unlike the previous two years, Michigan quarterback J.J. McCarthy enters the season knowing he's the starter. As a sophomore last season, McCarthy threw for 2,719 yards with 22 touchdowns and five interceptions. He's got several of his favorite targets back in 2023, posing a threat for Ohio State's defense, which has given up 42 and 45 points to the Wolverines, respectively, over the last two years. After losing to Michigan in back-to-back seasons for the first time since 2000, the Buckeyes are desperate for a return to dominance in the rivalry, when they won 15 of 16 from 2004-19. Anything less and head coach Ryan Day might find his seat suddenly become quite warm.
No. 4 Alabama at Auburn
Hugh Freeze is back in the SEC, this time as the new head coach at Auburn. Freeze found some success against Alabama while wearing the headsets at Mississippi, where he was 2-3 against Alabama head coach Nick Saban. He'll try to even the record in the "Iron Bowl." The Crimson Tide have won three in a row against Auburn but are 2-3 in the last decade at Jordan-Hare Stadium. Freeze is known as a quarterback whisperer, so his attention will be on Michigan State transfer Payton Thorne, who beat out Robby Ashford for the starting job. Ashford began last season as the No. 2 quarterback but took over because of his dual-threat abilities. Ashford ran for 121 yards against Alabama and was the first Auburn player to score two rushing touchdowns in an "Iron Bowl" game since 2003. After losing Pete Golding in the offseason, Saban brought back Kevin Steele, who was Saban's first defensive coordinator at Alabama.
No. 8 Florida State at Florida
Florida State snapped a three-game losing streak in the series with last season's 45-38 win. The Seminoles are 17-14-1 against Florida since 1992, but the Gators have won the last two meetings in Gainesville and own a slight 8-7 edge at "the Swamp" during that span. In his first year at Florida, Billy Napier became the first Gators head coach to lose to rivals Georgia, Tennessee and Florida State in the same season. Napier gets a pass for the 2022 debacle, but he'll need to find a way to win one of them in 2023 without worrying about how long he can last in 2024. Barring a bizarre turn of events, the Seminoles will be his last chance for an upset.
Washington State at No. 10 Washington
This could be the last year of the "Apple Cup" rivalry for the foreseeable future. Much like Oregon's planned departure jeopardizes future games with Oregon State, the looming exit of Washington to the Big Ten puts this game in question for 2024 and beyond. Washington has won eight of the last nine meetings, but the Cougars broke through with a 40-13 victory on their last trip to Seattle in 2021. Can they do it again in 2023? That game essentially earned head coach Jake Dickert the full-time job after replacing Nick Rolovich midway through the 2021 season. Dickert had to replace both coordinators and most of his position coaches in the offseason. The Cougars also lost several key contributors to the transfer portal, but they still have quarterback Cameron Ward, who passed for 3,231 yards and 23 touchdowns last season.
Scripps Only Content 2023