Idalia weakens to tropical storm after slamming Florida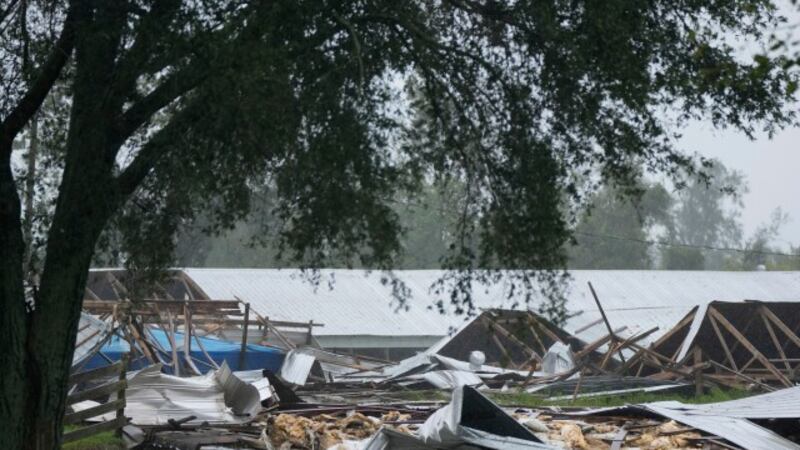 Published: Aug. 30, 2023 at 5:25 AM EDT
Idalia lost steam and weakened to a tropical storm Wednesday after slamming into Florida as a powerful hurricane hours earlier.
The National Hurricane Center's 11 p.m. advisory says the storm was about 15 miles north-northwest of Charleston, South Carolina., and had maximum sustained winds of 60 mph. Hurricane-force winds are at least 74 mph.
Idalia roared ashore early Wednesday with 125 mph winds, unleashing devastation along a wide stretch of the Gulf Coast, submerging homes and vehicles, turning streets into rivers, unmooring small boats and downing power lines before sweeping into Georgia.
Idalia hit the lightly populated Big Bend region, where the Florida Panhandle curves into the peninsula. It made landfall near Keaton Beach at 7:45 a.m. as a high-end Category 3 hurricane with maximum sustained winds near 125 mph.
Hurricane Idalia storm damage in Perry
"All hell broke loose," said Belond Thomas, 41, of Perry, who works at a mill just inland from the Big Bend region where Idalia came ashore.
Thomas fled with her family and some friends to a motel, thinking it would be safer than riding out the storm at home.
But as Idalia's eye passed over about 8:30 a.m., a loud whistling noise pierced the air and the high winds ripped the building's roof off, sending debris down on her pregnant daughter, who was lying in bed. Fortunately, she was not injured.
"It was frightening," Thomas said. "Things were just going so fast. ... Everything was spinning."
IDALIA'S IMPACT: Hurricane hammers Florida's Big Bend region
Hurricane Idalia hammers Perry, Florida
As of midday Wednesday, there were no confirmed storm deaths in Florida, although fatal traffic accidents in two counties may end up being storm-related, Florida Gov. Ron DeSantis said at a news conference.
A 59-year-old man driving a pickup truck in heavy rain veered off the road outside Gainesville. In Dade City, north of Tampa, a 40-year-old man lost control of his pickup and crashed into a tree, authorities said.
About 150 customers each were without power in Florida and Georgia.
State officials, 5,500 National Guardsman and rescue crews were in search-and-recovery mode, inspecting bridges, clearing toppled trees and looking for anyone in distress in one of Florida's most rural regions.
TRACKING THE TROPICS: Hurricane Center | Hurricane Guide
More than 30,000 utility workers in Florida were gathering to make repairs as quickly as possible in the hurricane's wake. Airports in the region, including Tampa International Airport, planned to restart commercial operations Wednesday afternoon or Thursday.
Schools in several counties along the Gulf Coast will be open Thursday. The University of South Florida campuses in campuses in Tampa and Sarasota-Manatee also will be open except for the St. Petersburg.
The Skyway Bridge, the Howard Franklin Bridge and Courtney Campbell Causeway were back open.
The Tampa airport opened to arriving flights only at 4 p.m. Wednesday and will resume full operations Thursday.
Because of the remoteness, search teams may need more time to complete their work compared with past hurricanes in more urban areas, said Kevin Guthrie, director of the Florida Department of Emergency Management.
"You may have two houses on a 5-mile road so it's going to take some time," Guthrie said.
Storm surge could rise as high as 16 feet in some places. Some counties implemented curfews to keep residents off roads.
Less than 20 miles south of where Idalia made landfall, businesses, boat docks and homes in Steinhatchee were swallowed up by water surging in from Deadman's Bay. Police officers blocked traffic into the coastal community of more than 500 residents known for fishing and foresting industries.
Hurricane Idalia storm damage in Cedar Key
On the island of Cedar Key, downed trees and debris blocked roads, and propane tanks exploded.
RJ Wright stayed behind on Cedar Key so he could check on elderly neighbors. He hunkered down with friends in a motel and when it was safe, walked outside into chest-high water. It could have been a lot worse for the island, which juts into the Gulf, since it didn't take a direct hit, he said.
"It got pretty gnarly for a while, but it was nothing compared to some of the other storms," Wright said.
MORE WEATHER: Radar |Alerts | 7-Day Forecast | Hourly Forecast
The system remained a hurricane as it crossed into Georgia with top winds of 90 mph, after drenching Florida mostly to the east of Tallahassee. Forecasters said it would punish the Carolinas overnight as a tropical storm.
Some models had predicted that Idalia could circle southward toward land again after that, but the National Hurricane Center predicted it would move deeper into the Atlantic this weekend.
In Perry, the wind blew out store windows, tore siding off buildings and overturned a gas station canopy. Interstate 275 in Tampa was partially flooded, and toppled power lines closed northbound Interstate 75 just south of Valdosta, Georgia.
About 200 miles to the south of where Idalia made landfall, the roads around the chic shops and restaurants of St. Armands Circle in the Sarasota area were underwater.
Astounded by the flooding that turned Tampa's Bayshore Boulevard into a river, Bill Hall watched a paddleboarder ride along the major thoroughfare.
"This is actually unbelievable," Hall said. "I haven't seen anything like this in years."
WATCH BELOW: WPTV anchor Michael Williams speaks with Florida CFO Jimmy Patronis on recovery efforts
Hurricane Idalia created 'significant storm surge,' Florida CFO Jimmy Patronis says
In Tallahassee, Florida's capital, the power went out well before the center of the storm arrived, but the city avoided a direct hit. A giant oak tree next to the governor's mansion split in half, covering the yard with debris.
"If they do cut down the whole tree, that is more room for my kids to hit baseballs," DeSantis said.
Storm surge could rise as high as 16 feet in some places. Some counties implemented curfews to keep residents off roads.
Diane Flowers was sound asleep at 1 a.m. Wednesday in her Wakulla County, Florida, home, but her husband was up watching the weather on TV when he got a text from their son after the storm was upgraded to a Category 4. He's a firefighter/EMT in Franklin County, which is also along the Gulf Coast.
"He said, 'You guys need to leave,'" Flowers said. "And he's not one for overreacting, so when he told us to leave, we just packed our stuff, got in our car and got going."
They quickly packed a few clothes, medicine, food for their two border collies, a computer, important documents and a bag of Cheetos. Motels were packed all the way into Alabama, where they ended up finding a room in Dothan.
The National Weather Service in Tallahassee called Idalia "an unprecedented event" since no major hurricanes on record have ever passed through the bay abutting the Big Bend. The state, still dealing with lingering damage from last year's Hurricane Ian, feared disastrous results.
Idalia grew into a Category 2 system on Tuesday and then a Category 3 storm on Wednesday before peaking as a Category 4 hurricane. It then weakened slightly.
Unlike last year's Hurricane Ian, which hit the heavily populated Fort Myers area, leaving 149 dead in the state, Idalia blew into a very lightly inhabited area known as Florida's "nature coast," one of the state's most rural regions that lies far from crowded metropolises or busy tourist areas and features millions of acres of undeveloped land.
In Valdosta, Georgia, Idalia's fierce winds uprooted trees and sent rain flying sideways. Jonathon Wick said he didn't take the approaching hurricane seriously until Wednesday morning, when he awoke to howling winds outside his home. After rescuing his young nephews from a trampoline in their back yard where the water rose to his knees, he brought them to his car and was climbing into the driver's seat when a tree toppled right in front of the vehicle.
"If that tree would have fell on the car, I would be dead," said Wick, who ended up getting rescued by another family member.
One man was killed in Valdosta when a tree fell on him as he was trying to clear another tree out of the road Wednesday, said Lowndes County Sheriff Ashley Paulk. Two others, including a sheriff's deputy, were injured when the tree fell, Paulk said.
Idalia grew into a Category 2 system on Tuesday and then a Category 3 storm on Wednesday before peaking as a Category 4 hurricane.
Officials in Bermuda warned that Idalia could hit the island early next week as a tropical storm. Bermuda on Wednesday was being lashed by the outer bands of Hurricane Franklin, a Category 2 storm that was on track to pass near the island in the north Atlantic Ocean.
President Joe Biden called the governors of Florida, Georgia, North Carolina and South Carolina on Wednesday and told them their states had his administration's full support, the White House said.
Associated Press writers Mike Schneider in St. Louis, Missouri; Curt Anderson in Orlando, Florida; Laura Bargfeld and Chris O'Meara in Tampa, Florida; David Fischer in Miami Beach; Russ Bynum in Savannah, Georgia; Jeff Amy and Jeff Martin in Atlanta; Lisa J. Adams Wagner in Evans, Georgia; Jeffrey Collins in Columbia, South Carolina; Kathy McCormack in Concord, New Hampshire; Christopher Megerian in Washington; and Julie Walker and David Koenig in Dallas contributed to this report.
Scripps Only Content 2023