Lee will start to dissipate over the next couple of days and lower wave heights
Published: Sep. 17, 2023 at 6:15 AM EDT
Post-tropical Cyclone Lee has winds of 45 mph and is producing tropical storm conditions across Canada.
In the 11 a.m. update and final one from the National Hurricane Center, Lee was moving northeast at 22 mph, and was about 135 miles west-northwest of Port Aux Basques, Newfoundland.
This storm will move into the North Atlantic on Monday where it will eventually dissipate at it runs into cooler waters.
All tropical storm warnings for Canada have been discontinued.
As Lee pulls away from the U.S, it will help lower wave heights and beach and boating conditions will improve by Monday.
Tropical Storm Nigel has winds of 70 mph and is expected to strengthen into a hurricane overnight, then a major hurricane on Tuesday, according to the 11 p.m. update.
Nigel was moving north-northwest at 12 mph, and was about 990 miles east-southeast of Bermuda.
Computer models keep this storm out to sea it and does not pose a threat to land.
Nigel will produce big swells by the end of the work week — next weekend, which will make way for hazardous beach and boating conditions across the East Coast.
Tropical Storm Margot is no longer a tropical cyclone with maximum sustained winds of 40 mph in the 11 a.m. and final update. Margot was about 885 miles west of The Azores.
A wave is expected to emerge off the coast of Africa where it has a 50% chance of formation over the next seven days.
A non-tropical area of low pressure could form near the Southeast coast of the United States late this week. It could acquire some subtropical characteristics if it remains offshore. Formation chances through seven days: 20%.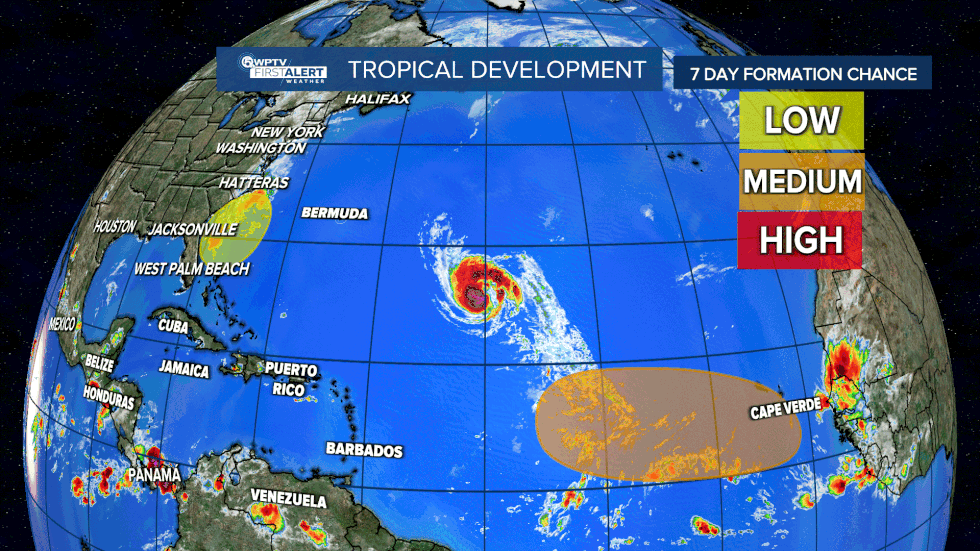 Scripps Only Content 2023