Friends, family celebrate the life of 'Jack the Bike Man'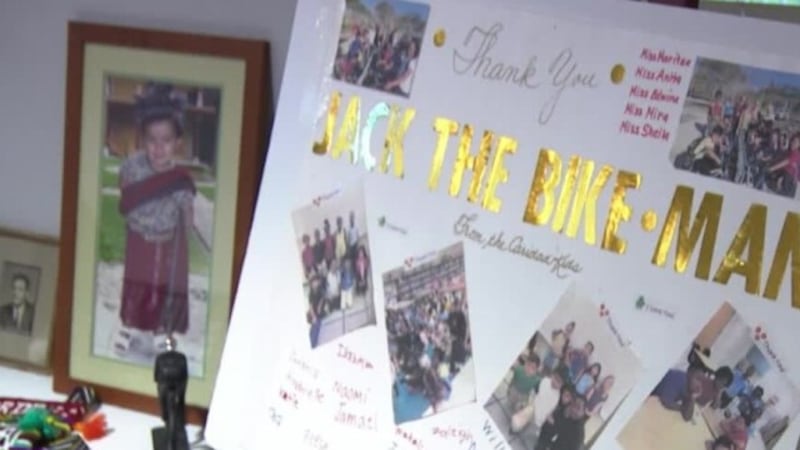 Published: Sep. 20, 2023 at 12:45 AM EDT
A crowd of loved ones on Tuesday remembered Jack Hairston III, known in the community as "Jack the Bike Man."
The celebration of life took place at Quattlebaum Funeral, Cremation and Event Center in West Palm Beach.
He died from a heart attack on July 7.
But on Tuesday night, friends and family remembered him for the life he lived.
"He was a unique person," his sister Betty Hairston Hickey said. "And he had ideas that were beyond what any of us would even come up with. He was a visionary, and he could dream the greatest dreams in the world."
Several items were on display, including pictures of him on a bicycle, a helmet and plaques with sayings such as "one of a kind" and "today is a good day to start making a difference."
That's what Hairston was known for, making a difference in the lives of kids in his community who could not afford to buy a bicycle.
When we first met him, he told us it all started in 1999 with a stranger.
"He fell off of his bike in front of my house a couple of times and then I looked very carefully and I could see that the brake wires on the bike were not connected," Hairston told WPTV. "I got on my walker and hobbled out to the curb and I was able to very quickly with pliers and a screwdriver connect the wire again and his brakes worked."
The next day more boys with bicycle problems knocked on his door, wanting help.
He was nicknamed "Jack the Bike Man" and he started an organization refurbishing bikes and teaching young kids how to care for their bicycles.
"Of course he was my bratty brother," Hairson Hickey said. "Every big sister says that. He was a wonderful man, he really was, took everything seriously but he wouldn't have people know about that serious side of him. He would more enjoy the time, make it fun, make it funny."
Alex Hernandez, the executive director of Jack the Bike Man Children's Bicycle Charity, said people want to continue his legacy.
"Our goal is to continue it and do the best that we can make his legacy come true the way he wanted Jack the Bike Man to become."
Palm Beach County Mayor Gregg Weiss said his cat had kittens five years ago and Hairston adopted one of them, Sprocket.
After his death, Weiss brought the cat into his home.
"Jack was a friend, somebody that I have known for a long time and he was a real blessing to have in our community he made a difference," Weiss said.
Scripps Only Content 2023