System in Atlantic could become tropical storm, impact North Carolina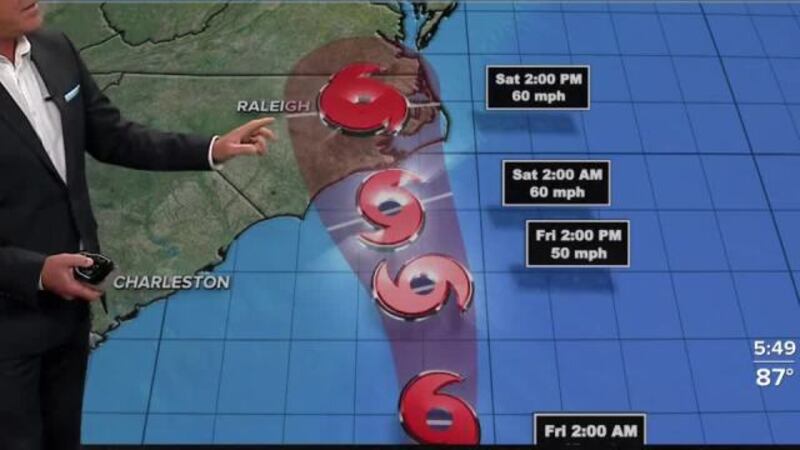 Published: Sep. 21, 2023 at 10:31 AM EDT
The WPTV First Alert Weather team is watching two areas that could develop into our next tropical system, one of which could actually bring drier air to South Florida.
Potential Tropical Cyclone 16, located just north of the Bahamas, is expected to bring tropical storm conditions and the potential for life-threatening storm surge to portions of the southeast and mid-Atlantic coasts, the National Hurricane Center said Thursday. The next name on the list is Ophelia.
WPTV First Alert Weather meteorologist Jennifer Correa said the area may develop into a subtropical system off the southeastern U.S. coast and impact North Carolina.
As of 8 p.m. Thursday, the system had 35 mph winds with higher gusts and moving north at 7 mph. The chance for tropical formation in the next two days is 60%.
It was located about 340 miles southeast of Charleston, South Carolina, and 395 miles south of Cape Hatteras, North Carolina.
A Tropical Storm Warning is in effect for the following areas:
Cape Fear North Carolina to Fenwick Island Delaware

Albemarle and Pamlico Sounds

Tidal Potomac south of Cobb Island

Chesapeake Bay south of North Beach
TRACKING THE TROPICS: Hurricane Center | Hurricane Guide
Correa said the system will allow a stationary front that's been sitting over South Florida and bringing us storms over the past couple of days to transition into a cold front, ending our stormy pattern and bringing us drier air in time for the weekend.
"It does move away from Florida," Correa said. "It actually helps to transition the stalled front we've had over us into a cold front, which means it's gonna sweep to the south of us eventually and allow for the return of drier air tomorrow."
Rain chances for our viewing area are 30% on Friday and Saturday and 40% on Sunday.
Meanwhile, a strong tropical wave located just off the west coast of Africa has a 50% chance of tropical development over the next two days and 80% chance over the next seven days.
Correa said this wave is likely to become a tropical depression late this week or this weekend or possibly a tropical storm.
"[This system] has a very good chance to become at least a tropical depression by this weekend," Correa said.
Scripps Only Content 2023