Brightline passengers hop aboard train for weekend travel to Orlando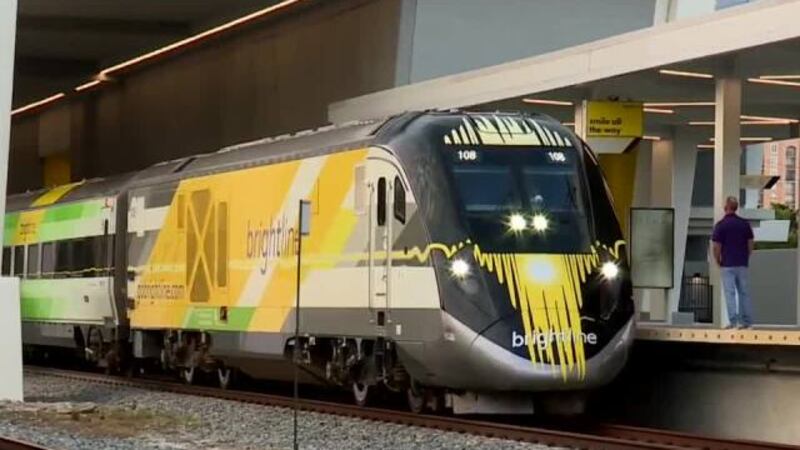 Published: Sep. 23, 2023 at 1:16 PM EDT
Travelers in Palm Beach County were up early Saturday to take advantage of the new train service to Orlando.
It was the second day that Brightline was taking passengers north to Central Florida from West Palm Beach.
Travelers were eager to check out the new service this first weekend after the trains started rolling Friday morning.
"Today, we're going to Epcot and tomorrow Halloween Horror Nights," passenger Dominick Bates said.
The service has been a long time coming, especially for mother Kimberly Ketchow.
"I'm headed up to Rollins College to see my son," Ketchow said. "He's directing a play."
She said riding the train to Orlando would now be a lot more comfortable than hitting the highway.
"I used to drive from West Palm to Orlando, take I-95, take the Turnpike," Ketchow said. "I've been really looking forward to not having to do that drive."
After years of work, Brightline is reinventing train travel and connecting two heavily populated regions of Florida.
"I thought it was an excellent idea. I took the train down to Fort Lauderdale when Brightline initially opened here in West Palm Beach," passenger Renelda Mack said. "I think it's wonderful for Palm Beach County as well as the state of Florida."
Brightline expected a weekend full of passengers taking advantage of the new route.
"It's exciting, and it's new, so we're looking forward to getting on the ride," passenger Rosie Pacheco said.
In terms of what's next, Brightline said there are more train stops in the works, including one possibly on the Treasure Coast.
Scripps Only Content 2023