Father rejects plea deal in case of child locked in room in garage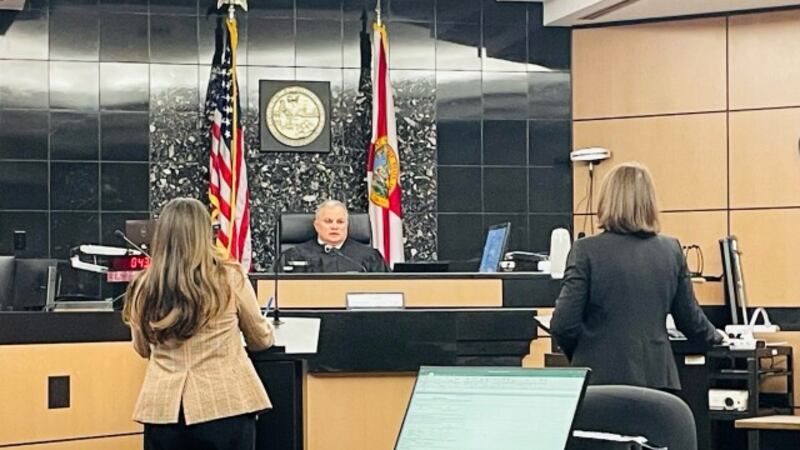 Published: Sep. 26, 2023 at 6:55 PM EDT
One of the two parents facing child abuse and false imprisonment charges of their adopted son in an 8-foot by 8-foot box for hours at a time in January 2022 rejected a plea deal Tuesday.
Timothy Ferriter appeared live via Zoom in a pre-trial court hearing conducted by Circuit Judge Howard Coates Jr. Jury selection is scheduled to start at 10 a.m. Friday in the trial for Timothy Ferriter with the date for his wife Tracy not set.
Tuesday's hearing lasted three hours.
Tim Ferriter rejected a deal by the state attorney's office for 24 months in prison and five years probation.
If found guilty, he faces 35 years behind bars and will be tried separately from his wife.
The hearing also involved reviewing hours of witness and evidence that will be admissible during trial.
Tim Ferriter's defense lawyer Prya Murad contends the parents were dealing with a "medically complex child" with attachment disorders.
The room was used for monitoring the child and not neglect, the defense says
Ring video shows he was only in the room for the longest of 10 hours at night on one occasion.
Tim Ferriter is 48 and Tracy 47.
According to Jupiter police, detectives were called to a residence in the 200 block of Crane Point North in the Egret Landing community on Jan. 30, 2022, regarding a follow-up investigation about a missing runaway.
During the investigation, detectives noticed the structure had a doorknob and a deadbolt, both locking from the outside, as well as a light switch also on the outside. It was part of a three-car garage.
Detectives also found a camera, a mattress and a bucket inside the structure.
According to detectives, the teen attended school but was confined to the structure during the remainder of the day when meals were brought to the child and a bucket was provided for bathroom use.
Scripps Only Content 2023