Miami moves up, FSU stays put, Florida falls out of AP top 25
No. 17 Hurricanes continue to climb; Seminoles stay at No. 5 in AP poll, slip in coaches poll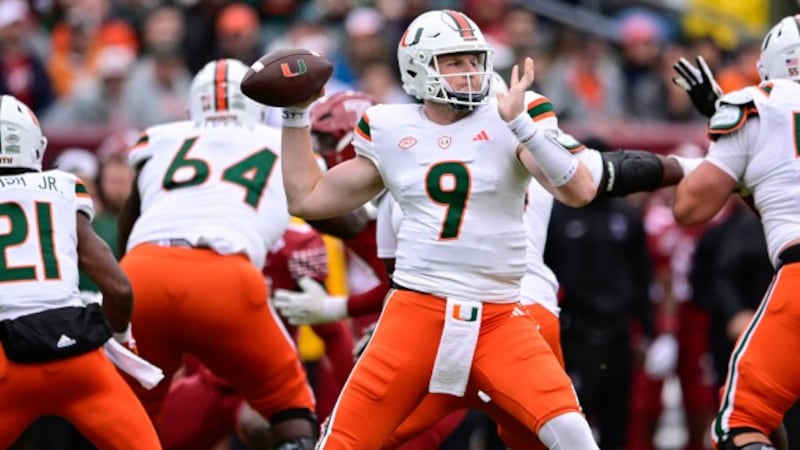 Published: Oct. 1, 2023 at 4:50 PM EDT
Miami moved up one spot, Florida State stayed put and Florida fell out of the latest Associated Press top 25 poll released Sunday.
The Hurricanes (4-0) are now ranked No. 17 after having the weekend off ahead of their Atlantic Coast Conference opener against Georgia Tech.
But the Gators (3-2, 1-1 Southeastern Conference) dropped out of the rankings after losing at Kentucky 33-14 – their third straight loss to the Wildcats.
Meanwhile, the Seminoles remained ranked fifth in the AP poll, but they dropped one spot in the coaches poll despite not playing. They're now ranked No. 5 in both polls.
The top seven teams in the AP poll remained unchanged. No. 8 Oregon and No. 9 Southern California swapped spots after the Ducks pounded Stanford 42-6 and the Trojans struggled in a 48-41 win at Colorado.
Notre Dame moved back into the top 10 after beating previously undefeated Duke 21-14.
Florida State returns to action next Saturday at home against Virginia Tech.
Miami and Florida State will meet Nov. 11 in Tallahassee.
Florida is back at home next Saturday against Vanderbilt.
Scripps Only Content 2023